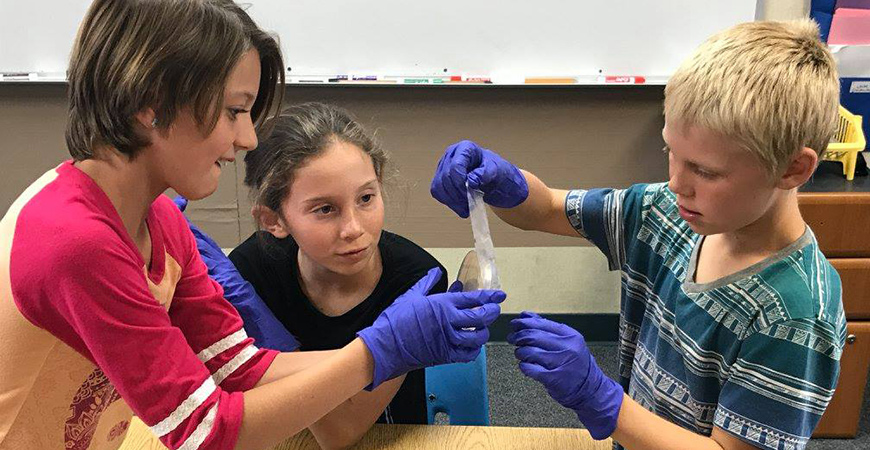 When the University of California chose Merced as the site for its 10th campus, the dream was to make a difference in the heart of California. As the campus matures and gains national exposure through rankings and the Merced 2020 Project, its impact is undeniable. But dig a little deeper and you'll find that the impact of UC Merced isn't just limited to the university itself; the people it has attracted are making their own marks in the area.
Take Uday Bali. One of UC Merced's earliest alumni and a recent recipient of the Merced Sun-Star's "20 Under 40" honor, Bali transferred from Modesto Junior College in 2005. Shortly after graduating in 2008, he went into business for himself and opened Bali Learning Center (BLC) in Merced. The K-12 educational services and enrichment center now boasts additional locations in Turlock and Modesto, several staff and a growing list of families who credit the center for filling a regional need for affordable tutoring and test preparation options.
One of those parents is Elena Castro, director of state and federal programs at Merced City School District. Castro met Bali and his wife, Preet ('09), when seeking services for her second-grade son in the center's early days. When the district was planning to launch its STEAM Program to promote the study of science, technology, engineering, arts and math back in 2013, Castro realized outside support would be needed to lay groundwork. BLC worked with the district to train teachers on how to incorporate technology and math into the classroom.
"Uday and his staff spent a year with our teachers in extended-day trainings," Castro recalls. "The support they gave us at that time is what paved the way for us to integrate STEAM into all we do throughout the district."
The K-8 district opened its STEAM Center just a few months ago, providing a well-appointed single location to allow experts in various fields to share educational programs and projects with students. It also gives teachers a place with the space and equipment needed for engaging, interactive lessons for their students.
"You could say Uday was at the forefront of that with the work he did for the district five years ago," Castro said.
The following article appeared in the November 2017 issue of Merced Monthly, an e-newsletter for the UC Merced campus community and friends. To subscribe, click here.
A School in the Foothills
Not too far east of Merced in Mariposa County, there's a small school that owes its existence in large part to UC Merced faculty and staff, according to Catheys Valley community activist and self-proclaimed "professional volunteer" Jill Harry.
According to Professors Carolin Frank and David Ardell, it took a village to bring Sierra Foothill Charter School (SFCS) to life in 2012 — just one short year after Mariposa County Unified School District closed Catheys Valley Elementary School because of years of decreased state funding to public schools and low enrollment.
Harry and a few friends had talked about trying to open a charter school somewhere in Mariposa County a few years before MCUSD announced it would close the elementary school in Catheys Valley, a town of less than 900. When the elementary school closed, they took action.
"I was so impressed by the people I met who were committed to making it happen that I agreed to lead the effort," said Harry, who was voted the Lead Founding Member and Board Chair.
The people she met included Frank, Ardell, former UC Merced Professor Lara Kueppers and former Director of Energy and Sustainability John Elliot, all of whom lived in the area and believed it was critical to have a school in the community. Along the way, developmental psychology Professor Jeffrey Gilger and his wife Patricia got involved, as did others.
Through teamwork and public support, the committee gained expedited approval of its charter at the district level. Sierra Foothill Charter School opened its doors to 86 students in Fall 2012. Today, 135 children, most from Mariposa County and some from Merced, attend the school.
"Obviously, we filled a need — not just in Catheys Valley but throughout the county and even into Merced," said Harry, who is the school's spokesperson. "We have kids who take the bus here from the town of Mariposa and beyond because they like what we offer."
What's offered is a "hands-on approach to learning and discovery," according to the school website. "It's not what SFCS teaches that is innovative, but how."
Located at the site of the former Catheys Valley Elementary School, the free, non-profit school teaches state-mandated curriculum through place-based learning. Frank, who was also a founding member and served on the school's board for six years, is closely involved with its teaching methods. Thanks to funding from the National Science Foundation, her lab partners with fifth- and sixth-graders in Erika Miranda's class.
Frank's research is on beneficial bacteria present in conifers. Frank took Miranda into the field with her graduate students this past summer to collect needle samples from trees in Yosemite National Park and process them in the lab. Now, Miranda, Frank and her students are working together to apply that research in lessons for Miranda's students. That includes work in the classroom and field trips to Yosemite and to Frank's UC Merced laboratory.
"We're using the scientific method to teach students that microbes can be good," Frank said. "Microbes aren't just germs."
Teaching the scientific process to SFCS students is important to Frank, who is passionate about UC Merced's mission to increase the college-going rate in the San Joaquin Valley. Frank believes exposing foothill students to STEM-based curriculum at the elementary level primes the pump, so to speak, for college preparedness.
"Our goal with Sierra Foothill Charter was not just to find an educational solution for ourselves, but to build a good school for all kids in the area," she said. "It feels good to see that we're making a difference."
Helping One at a Time
While some people devote their time to work that affects high numbers of people, others like work that's scaled down. Extension and Summer Session Director Tammy Johnson and Sara Boyle from External Relations make a big impact by thinking small. They, along with five other local women, founded the Merced chapter of Helping One Woman … at a time (HOW).
The organization's motto is "One woman with $10 can buy a woman's lunch. Ten women with $10 can buy a woman's groceries. But 100 women with $10 can make a real difference in a woman's life."
On the third Wednesday of each month (except December), the nonprofit hosts a dinner in honor of a local woman who has experienced a life-altering crisis of some sort. Attendees pay $18 for their dinner, and provide a gift of at least $10 to the dinner's honoree. They can also purchase tickets to an optional prize drawing. All money raised beyond the cost of dinner goes directly to the honoree at the end of the night.
For Johnson, the direct impact of the organization is almost overwhelming.
"I've met so many amazing people through this organization, and the struggles people go through every day are huge," she said. "I feel like we have the opportunity to let women know we care about them and what they are going through, and we can do it in a meaningful way."
UC Merced Business Officer Pam Taylor can relate. She's been a member of Soroptimist International for most of her adult life. Seeing the effects the service club has had on women in the community has kept her engaged over the years. As both an officer and a member, she's been able to meet the women who have gone to or stayed in school to earn degrees because of support provided by the organization.
"When you meet someone who has survived domestic violence and had to start over, it changes your whole outlook," Taylor said. "It feels good to follow them in their journey, knowing that we helped."
Whether members of the campus community give a little or a lot in time, money or resources, it all adds up. Just ask Cashiering Manager Carla Krogh. She's been a Special Olympics volunteer and coach for almost 30 years. Her passion for the program that offers athletic training and competition to children and adults with physical and developmental disabilities shows in even the briefest conversation with her.
"Not everyone has to be a coach," she said. "We need people cheering in the stands and helping out at events, which doesn't take more than a few hours on a single day."
This story features only a small sampling of the people at UC Merced who work to make the area a better place. If you or someone you know is working on community improvement projects or as a local volunteer, let us know by emailing communications@ucmerced.edu.