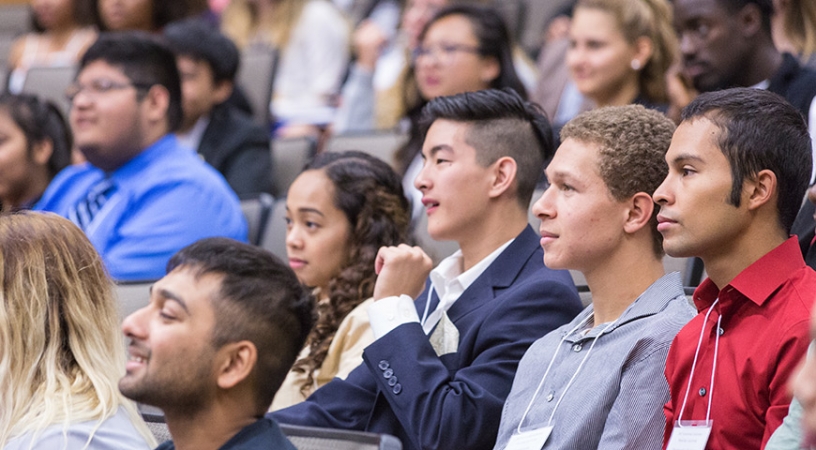 UC Merced students had the chance to gain knowledge and leadership skills for their personal and academic careers at the 2017 Leadership Conference, hosted by the campus's Margo F. Souza Student Leadership Center on Sept. 23.
Now in its 11th year, the annual conference was redesigned to help facilitate deep transformational learning to increasing student leadership on campus and beyond.
"The UC Merced Leadership Conference is an incredible way for students to accelerate their leadership development early on in the academic year," said Steve Lerer, who oversees the center in his role as associate director of the Office of Leadership, Service and Career. "I can't wait to see what students do with the new skills and self-knowledge they acquired at the conference."
About 300 undergraduate and graduate students participated in a day full of speakers — from on and off campus — presenting on a wide range of topics centered on the concepts of leadership and skill development. 
Professional speaker and author Frank Kitchen kicked off the conference with his keynote lecture and the conference's theme, "Think Big, Lead FRESH!" 
"Its' not about everyone else," he said. "In leadership, it's your race."
Kitchen gave the students his recipe for living FRESH — Focused, Resourceful, Enthusiastic, Strong and Honest — in life and leadership. His step-by-step instructions of what to do to "Live FRESH" helped empower the students.
"As a leader, you're going to impact your life and someone else's in a positive way and you're going to do that by doing your dream, your passion or your purpose," he said. "When your dream, passion and purpose impacts someone else's life, it feels so much better."
Students were offered a choice of five intensive training tracks to increase their learning experience. In addition to Kitchen, presenters included professional trainer and author Lisa Safran and professional speaker and author Lee Rubin, both of whom were invited back for the second year due to student requests, and Lezly Juergenson, who is a career counselor for the campus.
The conference also featured the Margo F. Souza Entrepreneur in Training track, led by representatives from the Gallup Organization and UC Merced alumni to help participants use assessment results to identify and direct their leadership talents. Two students in that track were also awarded a $1,500 scholarship.
Of those who attended the conference, one-third of attendees were first-year students at UC Merced. About 20 who participated were attending for the second time.
Biological sciences major Alexis Zamudio-Torres was one of six students who attended the Leadership Conference for the third consecutive year.
"There's always room for improvement as a leader," said Zamudio-Torrez, a third-year undergraduate student from Sonoma. "Each year I get different experiences, as well as advice and skills that I can apply as a leader and use to grow as a person."
He's completed the first two tiers of the leadership development program offered by the center and hopes that knowledge, along with his conference experiences, will help him in the future as a physical therapist. 
As a leader, you're going to impact your life and someone else's in a positive way and you're going to do that by doing your dream, your passion or your purpose.
Jennifer Echeverria attended the conference for the first time and hoped to gain a different perspective on what it means to be a leader. The senior biological sciences major from Bakersfield said she got that and much more from attending Rubin's track on "Building Extraordinary Teams."
"One important message that really stood out was that great leaders know how to acknowledge a challenge or an opportunity, and they are able to create a team that has both passion and can thrive under pressure," she said. "Being a great leader means understanding how to involve every individual idea and transform it into a common purpose."
"It's a total success," said Souza, a philanthropist and former president and CEO of Turlock's Circle H Dairy Ranch Inc. "This community is very resourceful and positive."
Souza is a longtime campus supporter and leadership mentor whose generosity and vision established the Margo F. Souza Student Leadership Center.
"At last year's conference, I asked how many students are first in their family to attend college, and half of the audience stood up," Souza said. "That's going to make a big difference in their lives.
"These young people are our future."
Senior Public Information Representative
Office: (209) 228-4203
Mobile: (209) 628-8263