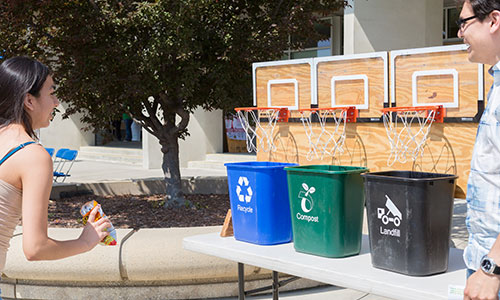 Earth Week is UC Merced's chance to highlight some of the ways the campus community is committed to being good stewards of the environment.
From working to divert all waste from the landfill to operating smart energy-monitoring systems in buildings to help reduce the campus's environmental footprint, students and faculty and staff members are doing their part.
Learn about what UC Merced Sustainability and campus organizations are doing to incorporate and expand sustainability practices in a variety of events the week of April 17-21:
Bobcat Eats Seminar — 1:30-2:30 p.m. April 17 in the California Room.
This workshop is a food literacy program. Enjoy free food and a cooking demonstration. Guest speaker Liz Carlisle, a lecturer from Stanford, will discuss what we each can do in our daily lives on food systems as it relates to public health, environmental sustainability and labor injustice.
Zero Waste Event Training — 11 a.m. to 1 p.m. April 18 in the California Room. UC Merced Sustainability will host a training for students and faculty and staff members who coordinate events, workshops or seminars on campus. The training will showcase how attendees can assist the campus in achieving its goal to achieve zero net waste by 2020. A free zero waste lunch will be provided to all attendees. Reserve your seat by email emailing Joanie Leidich at jleidich@ucmerced.edu.
Bobcat Eats Market — 11a.m. to 3 p.m. April 18 in the Cat Quad near the dining center. Bobcat Eats Market provides the campus community an opportunity to purchase locally grown fruits and vegetables provided by the Fresno Food Commons.
Campus Community Garden Reopening — 1:30-2:30 p.m. April 19 in the Campus Community Garden (behind Valley Terraces adjacent to Ranchers Road). The Campus Community Garden will reopen at its new location adjacent to Ranchers Road. All students and faculty and staff members are welcome to attend the ribbon cutting.
Earth Day Festival — 10 a.m. to 2 p.m. April 20, on Scholar's Lane. Enjoy activities that highlight the many sustainable areas of campus, plus food, fun and prizes. The festival will feature booths of student organizations and local businesses. This year, there's a new game called Dumpster Dive allowing participants to sort through clean trash and recycling in a dumpster to find the prize.
Crafty Sustainability — 1-3 p.m. April 20 in the Bobcat Lair. Learn crafty tips on how to help the environment and how to reuse and recyclable everyday household items.
Senior Public Information Representative
Office: (209) 228-4203
Mobile: (209) 628-8263