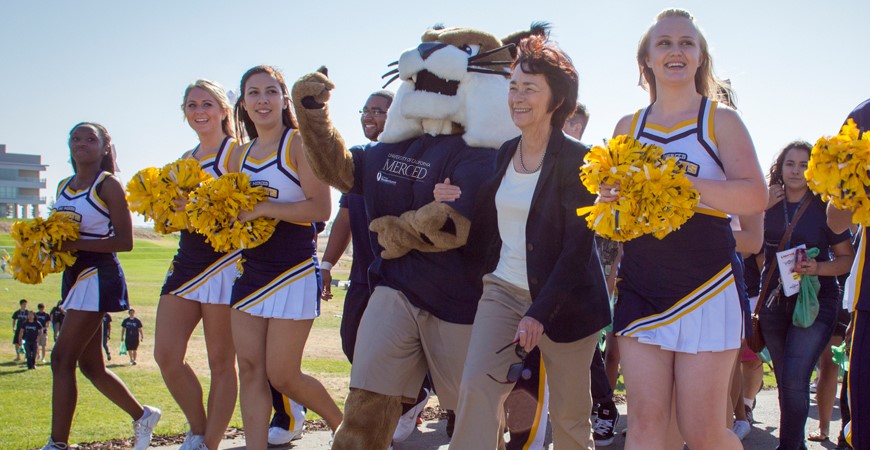 UC Merced's Homecoming Oct. 20-22 will draw students, staff, faculty, alumni, family and friends together for a weekend of activities that highlight the campus and the community.
For the first time, three major campus events are being combined into a larger celebration. At Homecoming, alumni are invited to return to their alma mater and see all of the changes on campus; prospective students, families and educators are welcomed to learn more about UC Merced at Open House; and current students and their families are reunited during Family Weekend.
Many of the weekend's activities will also be of interest to the local community, including campus tours, sporting and a tailgate party. 
Festivities begin Friday, Oct. 20, with the UC Merced women's volleyball team's homecoming match against the University of Antelope Valley at 4 p.m. in the Joseph E. Gallo Recreation and Wellness Center gymnasium.
Saturday, Oct. 21, starts with a welcome from Chancellor Dorothy Leland and Merced Mayor Mike Murphy at the Cat Kick-Off at 10 a.m. in the Classroom and Office Building 2 Courtyard. Enjoy performances from the campus's Dance Coalition, Ohana and Pilipino American Association groups.   
From 11 a.m. to 3 p.m., come explore the campus's many hidden gems and exciting expansion in progress. Tour academic buildings, residence halls, and the Merced Vernal Pools and Grassland Reserve. Learn more about the Merced 2020 Project expansion through an exhibit in the Bobcat Lair (Room 169 of the Leo and Dottie Kolligian Library). 
A Community Showcase will feature on- and off-campus performers from 11 a.m. to 3 p.m. at the Carol Tomlinson-Keasey Quad.
The day will round out with homecoming soccer matches against Soka University of America. The women's match kicks off at 1 p.m., followed by the men's at 3 p.m. Attend the free Rufus Tailgate party from 2-4 p.m. to help cheer the teams to victory. Both have started the season strong and their matches are sure to be exciting. For more information on UC Merced Athletics teams and schedules, visit www.ucmercedbobcats.com. 
A full schedule of Homecoming events for families and alumni is featured online or on Facebook. Parking is free in the Lake Lot.
Senior Public Information Representative
Office: (209) 228-4203
Mobile: (209) 628-8263