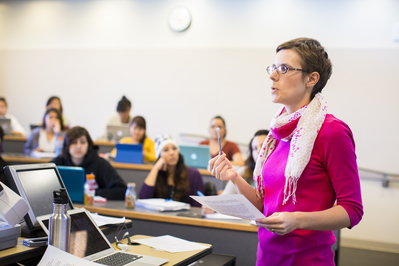 UC Merced sociologist Laura Hamilton has gained national attention since the 2013 release of the book she coauthored, "Paying for the Party: How College Maintains Inequality." The book, which illustrates the ways in which large state universities perpetuate inequality and inhibit social mobility by catering to privileged students, has contributed much to the larger discussion of the value of higher education.
Hamilton's impact was recently recognized by higher education scholar Frederick M. Hess, director of education policy for the American Enterprise Institute, who ranked her No. 61 in his annual "Edu-Scholar Public Influence Rankings." Her selection marked UC Merced's first appearance on the rankings, which use eight metrics to identify 200 university-based scholars who shape public discussions of education each year.
"Education and social class are two of the research topics I am most interested in as a sociologist," Hamilton said. "Our hope with this book was to shine a light on the experiences of underprivileged students at large public universities, and I'm proud to have contributed to the understanding of such an important issue."
Coauthored by Elizabeth A. Armstrong, "Paying for the Party" follows a group of 53 women — all starting college at the same mid-tier state university and living on the same dormitory floor, as they go through college and out into the workforce. The book has been featured in national publications, including the New York Times, and led to Hamilton's appearance in the 2014 documentary film "Ivory Tower," which was recently broadcast on CNN.
Hess' rankings, created in 2011, include many researchers from some of the nation's most prestigious universities, with nearly 20 percent of this year's list hailing from Stanford or Harvard alone. Hamilton ranked seventh among UC scholars, behind four from UCLA and two from UC Berkeley.
"One small way to encourage academics to step into the fray and revisit academic norms is, I think, by doing more to recognize and value those scholars who engage in public discourse," Hess said in a news release about the rankings. "These results offer insight into how scholars in a field of public concern are influencing thinking and the national discourse."
Nella Van Dyke, chair of sociology at UC Merced, said Hamilton is a shining example of the important work being done by the university's faculty — especially in the sociology program, which boasts a number of Fulbright scholars and published authors.
"Professor Hamilton is an outstanding scholar whose research challenges people's assumptions about education and family life," Van Dyke said. "She is a founding member of UC Merced's graduate program in sociology, and a wonderful exemplar of the research excellence and public engagement that are central to our growing program."