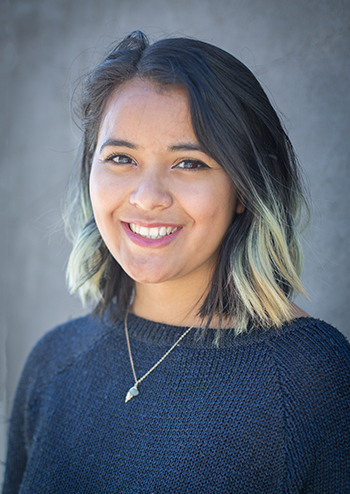 Rebecca Quinte is a mechanical engineer who is learning to apply her skills and knowledge in unexpected ways, and that could end up benefitting farmers in the Central Valley and beyond.
The UC Merced undergraduate student is working with Professor Andrea Joyce on a project that aims to shoo away leaffooted bugs, insects that feed on the seeds of crops like pomegranates, almonds and pistachios.
Quinte, a Loma Linda native finishing up her bachelor's degree this semester, constructed the low-velocity wind tunnel in which the bugs will be observed. The researchers will observe the insects' mate attraction behavior in order to see whether pheromones or other attractants could be used to control the insects in place of pesticides.
"Farmers see them swarming and are tempted to apply pesticides, which I understand — it's their livelihood," Quinte said. "We're trying to research an alternative for their control. We're trying to put their minds at ease."
The research is part of UC President Janet Napolitano's Global Food Initiative, which was launched last year to help put the university's campuses, the state and the world on a pathway to sustainably and food security.
Quinte was one of six UC Merced students to be chosen for the initiative's Student Fellowship Program in December. Through the program, undergraduate and graduate students receive $2,500 for research, internships and other projects that focus on food issues.
Joyce — an assistant professor of entomology with the Sierra Nevada Research Institute — encouraged Quinte to apply for the fellowship. UC Merced is known for providing research opportunities to undergraduate students, but those positions are often in high demand.
"It can be quite competitive to find a research opportunity in a faculty member's lab," Joyce said. "The experience can help high-achieving students decide if they would like to pursue graduate studies or a research career."
Quinte, who is currently working as an intern with Hetch Hetchy Water & Power, said the fellowship has given her a new perspective on mechanical engineering as a career. In particular, her research with Joyce has made her more aware of engineering's potential to solve problems that are affecting the environment.
"As a mechanical engineer, I see more of the impact engineering can have," Quinte said. "I see the bigger picture."