The heat generated by smartphones and other electronic devices could be harnessed to also power them, according to compelling research out of the University of California, Merced.
Physics Professor Michael Scheibner's latest work in the emerging field of phononics – the study of quasi-particles that produce heat – indicates phonons can be harnessed to produce energy.
"Usually, phonons dissipate, but using an electric field, we can keep them in place where they are generated, and make them useful," he said.

His newest paper, demonstrating the process, has earned him a spot in Nature Communications, a young bimonthly product of the prestigious journal Nature. Although Nature Communications is only 3 years old, it is already listed as having the third-highest impact among multidisciplinary scientific journals, behind Nature and Science.
Don't confuse phonons with photons, the tiny light-producing particles. Phonons are similar; but harnessing them means anything electrical that generates heat, such as a computer, could be powered by that same heat, rather than wasting it.
"We would get an increase in battery life, or could use smaller batteries," Scheibner said. "In big centers like Google, where they need massive cooling power, their needs could be drastically reduced. Right now, most of that heat energy is wasted because we have a hard time controlling the phonons."
The paper explaining how to harness the tiny particles' power, "Optphononics with Coupled Quantum Dots," was released today.
For the project, Scheibner coordinated work between his team of UC Merced graduate and undergraduate students and collaborators from Ohio University and the Naval Research Laboratory.
The result of Scheibner's studies is a good example of the practical applications and potential global reach of the work being produced by UC Merced's talented researchers.
The insights from this study could also be used to create more efficient solar cells, or even utilize phonons in information processing.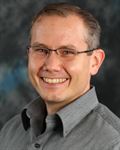 The university's Office of Technology Transfer has already filed a patent application on Scheibner's work.
"Professor Scheibner's work could have an enormous impact on energy savings, and it's a great example of UC Merced's leadership in environmental sustainability research," School of Natural Sciences Dean Juan Meza said.
To prove the work, Scheibner said, semiconductor samples similar to the chips found in modern electronic devices, containing quantum dots – tiny crystals the size of a millionth of a grain of sand – had to be fabricated at the U.S. Naval Research Lab in Washington, D.C.
From there, all the researchers had to do was "shake" their quantum dots.
"We excite the dots, which 'shakes' them, producing phonons which are quickly lost. But we learned that by applying electric fields we can make the dots transparent to laser light, and that tells us the phonons stay there," the School of Natural Sciences professor said.
Scheibner is used to working at the nanoscale. The bulk of his research focuses on light-matter interactions, nanostructured materials, coupled quantum systems and quantum information.

Senior Writer and Public Information Representative
Office: (209) 228-4406
Mobile: (209) 201-6255