Graduate student Ryan Lucas is living a mountain-lover's dream through his research.
As part of engineering Professor Martha Conklin's meadows-hydrology lab, he gets to spend a lot of time in the Sierra Nevada in Yosemite and Sequoia-Kings Canyon national parks, collecting data on how much water is flowing through the meadows, how it's moving and by what process.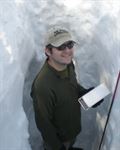 Meadows make up about 10 percent of the landmass, but they are disproportionately important to the ecosystem, providing food, water and habitat for many creatures.
"I grew up on the coast, but I've always been a hiker and skier," said Lucas, who earned his bachelor's degree at UC Santa Barbara and worked as an environmental consultant for a few years until he decided an advanced degree would expand his options.
He applied to the master's program at UC Merced on a whim, having heard about the newest UC campus. He was scheduled to look at the campus with a bioengineering professor, two weeks before his visit, he got an email from Professor Roger Bales, suggesting Lucas look at his lab and the Sierra Nevada Research Institute, too.
"He and Martha were doing all this exciting research," Lucas said. "Even before I met the other professor, I had decided I wanted to work with them."
He said he wasn't concerned with the size or the newness of UC Merced, but he was excited by its location.
"I came here because of the research and because the Sierra Nevada would be my laboratory," Lucas said. "And it's right next door."
In the winter, that means snowmobiling or skiing out to the research sites. In the summer, it means black bears.
"One ate my peanut butter sandwich one day," Lucas said. "If I was brave, I could have charged it, but I wasn't feeling that brave. I let him have it."
Though moving to the Central Valley was a big change for a Santa Barbara resident, it has its benefits.
He met his wife here, another graduate student, and they had a son 20 months ago. And the cost of living here is much lower than in many other places.
"We bought a house here, and our mortgage is less than the rent on my one-bedroom, converted garage in Ventura," Lucas said.
Lucas said he will defend his master's thesis before the end of this year, and has already applied to the Ph.D. program. But because he has spent so much time gathering data for his Ph.D., he said he assumes it should take less than two years to finish that degree.
He hopes to become a professor when he's finished.
"A career with a heavy teaching load is definitely in my future," Lucas said. "I really enjoy it."
He has taught a few classes at UC Merced, and said he has learned about teaching from Conklin, especially how to structure a course.
"Her classes are difficult, but she is really patient and she takes the time to help students get through it," he said. "It's awesome working with her. She's insanely busy, but she is also brilliant and a great scientist.
"She has really helped guide me."
Though graduate school is time consuming and labor intensive, Lucas offered a bit of advice for anyone considering it:
"Take it easy, don't kill yourself, and find something that excites you," he said. "Find something that makes you happy when you work on it."

Senior Writer and Public Information Representative
Office: (209) 228-4406
Mobile: (209) 201-6255