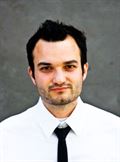 UC Merced senior Jesse Anaya answered his phone one day to hear an unfamiliar voice ask, "Are you ready to change the world?"
"Yes," he replied. "Now, who is this?"
A representative from the Harvard Latino Leadership Program told the Modesto native that he'd been accepted. It was his most unusual notification of such an honor, but not an isolated incident. Anaya, who is majoring in earth systems science at UC Merced, has earned entry into several prestigious programs where he can pursue his dual interests in science — particularly microbial ecology — and public policy.
Recently, he learned he was accepted to the Public Policy and International Affairs (PPIA) program at Princeton University for summer 2012. 
"I'm excited about the PPIA because of how much I can learn," Anaya said. "My background is mostly science. I believe in promoting science that lends itself to policy. And that's why the PPIA is so incredible — I get to learn policy from leading experts in their field."
He'll spend this fall at Duke University as a Marine Laboratory Undergraduate Fellow, then travel to Panama for a week of field research. That will build on his experience last summer at the Scripps Institute of Oceanography at UC San Diego.
"I learned microbial ecology from some of the top microbial ecologists in the world and came back with a sense of transformation," Anaya said. "Dr. [Farooq] Azam stressed the need to develop an ecological systems approach to the scientific process that lends itself to public policy."
He also found that he shared his Modesto background with another prominent scientist at Scripps — Professor Andrew Benson, whose friendship emphasized to Anaya the importance of a strong support network.
"Nobody does it alone," he said. "It sure seems that way a lot of the time, but it's not."
Anaya credits his parents; his research advisors, UC Merced professor Wei-Chun Chin and gradaute student Chi-Shuo Chen; his friends; his girlfriend and her family; and several other UC Merced staff and faculty members — Tony Jimenez, Jesus Cisneros, Elizabeth Boretz, Angie Salinas and Peggy O'Day — who have helped him find and apply for various programs and honors.
"Jesse admires accomplished scholars and leaders who have influenced his education and community, and he takes the time to learn more about those people and find out what their pathways were," Boretz said. "He is willing to take risks and compete, even when the odds are against him. He understands that that's the only way to win new opportunities."
"UC Merced has been the perfect incubator," Anaya said. "I've had lots of direct contact with professors, flexibility in classes to fulfill major requirements, and autonomy in my research projects. I'm happy it seems to be working out for me, but I don't think of myself as an aspiring scientist, policy maker or philosopher — or even successful just yet. I kind of think of it all as an experiment — one that seems to be going OK right now."
Senior Public Information Representative
Office: (209) 228-4203
Mobile: (209) 628-8263