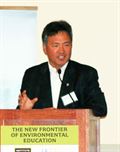 At a time when Californians are dismayed about closures of state parks, and protected lands around the globe are under increasing stress from reduced government resources, an innovative institute is arming parks leaders with new information and approaches to sustainability.
The National Parks Institute Executive Leadership Seminar is a collaboration between UC Merced, the National Park Service, the Great Valley Center, the Institute at the Golden Gate, the National Parks Conservation Association and the Stanford Graduate School of Business that aims to connect park and protected area leaders from around the world and give them the opportunity to share ideas, skills and tools for thinking and working strategically and on a global scale.
The intense, 11-day seminar brought together 27 established and emerging leaders from parks in 13 countries, taking them from Golden Gate National Recreation Area to UC Merced and culminating in a trip to Yosemite National Park. During the whirlwind schedule, participants immersed themselves in lectures, discussions, and hands-on application of theories of change management, organizational renewal and strategic planning.  Challenge areas of focus included impacts of climate change on ecological systems, generational changes in park workforce and visitors, and illegal activities in parks and open spaces.
According to speaker Thomas Lovejoy, president of the Heinz Center at George Mason University, the final frontier for the battle of preserving our planet lies in protected lands, but quick, informed action is required.
"It's time we get our hands on the steering wheel and move this thing in the right direction," Lovejoy said. "We need to think of managing the planet as a linked biological and physiological system; because that, in fact, is the way it works."
Known for coining the term "biodiversity," Lovejoy serves as chief biodiversity advisor to the president of the World Bank.  His message was particularly timely for institute participants, who took part in NPI not just to learn from experts but also to learn from each other.
Stan Austin, superintendent of Cayahoga Valley National Park in Ohio, said he valued the ability to address real-world challenges with peers and experts from all over the globe.
"There are many challenges when you are running a large national park," he said. "The challenges are change: the budget, adapting to the new visitors, the diversity and preparing for change in the future."
Sula Jacobs, deputy superintendent of Florida's Biscayne National Park, said that the seminar showed that the problems faced by U.S. park leaders are universal.
"We all have visitors from different areas; we have ecological issues, natural resource issues and funding issues that are occurring," she said.
Although protected areas around the world face similar underlying challenges, they also share positive commonalities. Parks serve as natural sites for experiential learning and resource stewardship education, and leaders need to continue find new ways to frame these educational opportunities.
Milton Chen, an international authority on mass media and education, suggested that it's time for leaders to use a range of tools that cross boundaries and learning styles.  Emeritus executive director of the George Lucas Educational Foundation and member of the National Parks Advisory Board, Chen told participants about the development of new educational models, which will provide a wider core of curricular areas and better assessments of student knowledge.  
"When we talk about a new frontier in environmental education, these new assessments will head straight toward the kinds of authentic learning that we know happens in environmental education and that happens in our national parks," Chen said, adding that he anticipates these standards to be adopted by a majority of states by 2014. "I expect to see a change in what education is about, where it happens and when it happens."
Moving forward, the National Parks Institute is prepared for the changes Chen spoke of. UC Merced and the National Park Service plan to expand NPI beyond an annual seminar to create a virtual forum for managers of parks and public lands. UC Merced also has plans to add an expert in park management to its faculty and increase research efforts in subjects relevant to the topic.
View a list of the 2012 Executive Leadership Seminar participants.
Visit the National Parks Institute website for more information on the seminar.
Senior Public Information Representative
Office: (209) 228-4203
Mobile: (209) 628-8263