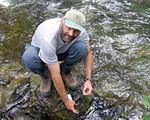 Peter Kirchner may have been born in California's San Fernando Valley, but his heart and mind have always been close to the mountains.
Much of his life has been spent living in Mono County, where he worked at a wilderness scout camp at age 15. In the mid-1990s, he was a training officer for the Mono County Sheriff's Search and Rescue Team.
So when Professor Roger Bales, director of UC Merced's Sierra Nevada Research Institute (SNRI), invited him to work with him on a project in 2006, Kirchner knew it was a chance of a lifetime.
"I had just completed my master's, and I came here to help (Bales) build a prototype hydrologic observatory, with an understanding that I would eventually begin a Ph.D. program," Kirchner said.
Now, Kirchner is well on his way to earning his doctorate in environmental systems. He's part of SNRI's Mountain Hydrology Research Group, which is studying the impacts of climate change on the hydrology of mountain ecosystems.
"I study water in forested landscapes, the way it is stored in the snowpack and soil, and what impact the mixture of rain and snowfall has on watersheds, storage capacity and runoff," he said.
Kirchner and his colleagues are seeking new ways to measure the Sierra snowpack, which is the source of much of California's water supply. The researchers are developing remote sensing methods, using satellites integrated with networked instrumentation on the ground.
"In essence, it's our water tower," Kirchner said of the Sierra snowpack. "How we measure it, monitor it and understand its relation to land-use practices is critical.
"For the past 100 years, we've done measurements the same way. But the effects of climate change mean those methods are no longer accurate much of the time."
Currently, knowledge of how much water the melting snowpack will produce each spring is limited. That poses a significant challenge for state water managers who must determine how to allocate resources without knowing exactly how much water is available or how long it will last into the dry summer months.
Developing more accurate methods of measuring available water quantities will require a new generation of observing platforms, and that's the basis of Kirchner's research.
Kirchner plans to complete his doctoral degree in 2012. Meanwhile, a Southern California Edison fellowship he received last year will help him reach his goals.
"It helps immensely," he said. "It's freed me from having to pursue other funding, and that allows me to devote that time to research."