From improving the performance and efficiency of solar cells to using solar technology to speed up fruit drying, a wide array of topics were covered by distinguished scientists at the UC Solar Research Symposium at UC Merced on Dec. 9.
Hosted by the University of California Advanced Solar Technologies Institute (UC Solar), the symposium featured an illustrious list of speakers that included researchers from all five of the UC campuses that comprise UC Solar — Merced, Berkeley, Davis, San Diego and Santa Barbara — as well as other top solar scientists.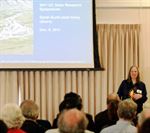 The well-attended symposium, held in UC Merced's California Room, was designed to promote public knowledge regarding present and future UC Solar research initiatives and to examine the current state of the solar energy industry in California and beyond.
Headquartered at UC Merced and led by UC Merced Professor Roland Winston, UC Solar conducts cross-disciplinary research that leads to new and improved solar energy generation technologies and educates the energy industry and the next generation of energy scholars.
UC Merced Chancellor Dorothy Leland, who gave the symposium's introductory remarks, said the work being done by UC Solar researchers — including those at UC Merced — will make a major impact.
"As the economics of energy production continue to evolve, this solar research holds great promise for applications in agriculture and numerous other fields on a global scale," Leland said.
Following the chancellor's remarks was a daylong series of compelling presentations by innovative researchers. That included Winston, who spoke on his recent project using non-tracking solar collectors to efficiently generate process heat.
The technology can be used in various heat process applications and was the subject of a recent demonstration in which Winston's research group used solar thermal energy to run a high-powered cooling unit.
"We knew such a thing didn't exist in the world," Winston said of the non-tracking design. "And we knew it could be done."
Other presenters included UC Berkeley Professor Eli Yablonovitch, director of the National Science Foundation's Center for Energy Efficient Electronics Science, and Sarah Kurtz of the National Renewable Energy Laboratory.
Kurtz talked about efforts to increase solar cell efficiency and the difficulty in simply repeating current successes in cell design, given the complexity of the technology.
"It's kind of like running the 4-minute mile," Kurtz said. "You have to do it pretty much perfectly each time."
The full list of speakers also included:
Senior project manager Prab Sethi, California Energy Commission
Professors Jan Kleissl and Carlos Coimbra, UC San Diego
Professor Connie Chang-Hasnain, UC Berkeley
Professor Adam Moule, UC Davis
Associate specialist Yong Sin "Shon" Kim, UC Merced
Postdoctoral researcher Robert Farrell, UC Santa Barbara
Graduate student researcher Blake Ringeisen, UC Davis
Through collaboration with industry and other stakeholders, UC Solar researchers are tasked with creating solar technologies that can be brought to the marketplace quickly. The researchers partner with industry participants through the UC Solar Industry Consortium, which attracts companies that design, produce, implement, manage and invest in solar technologies.
Current consortium members include APG Solar, E&J Gallo Winery, Grundfos, InteLED, Merced Irrigation District, Renewable Energy Test Center, Richardson Electronics, b2u Solar and SunTherm.