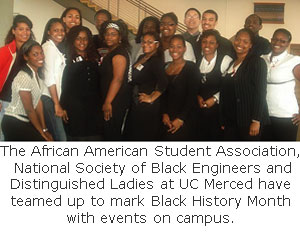 Whether it's through art, film, literature, education, civil rights, food, or music, events planned for the month of February are a way to commemorate Black History Month and celebrate the achievements and contributions of black people to American society.
The African American Student Association (AASA), National Society of Black Engineers, Distinguished Ladies at UC Merced, with support from the Office of Student Life's Intercultural Programs and the Fiat Lux Scholars Program, kicked off Black History Month events Feb. 1.
Highlights of the events planned:
•  Feb. 3 - Reggae Skate Nightat 8 p.m., Roller Land, 1445 W. 18th St.
• Feb. 9 - Film: Ida B. Wells - "A Passion for Justice,"7 p.m., Bobcat Lair
• Feb. 10 - Black Forum & Panel Discussion,7:30 p.m., Bobcat Lair
• Feb. 15 - Discussion: "Evolution of Music in the Black Community,"7 p.m., Bobcat Lair
5th Annual Oratorical Contest
In celebration of the rich oratorical tradition in the black community, the Fifth Annual Oratorical Contest will bring together community high school and college students to compete in a formal speech contest.
The competition is scheduled to begin at 4 p.m. Feb. 26, in The Dr. Lakireddy Auditorium. The public is welcome to attend as young people speak on the theme, "What is the personal and social significance of Black History Month?"
There are two contest levels - high school students and college students - and all speeches must be 5 to 6 minutes in length. There will be a $500 grand prize for the winner of each level.
Applications for the competition are available online and must be submitted by Feb. 13. Visit studentlife.ucmerced.edu to sign up for a spot in the contest.
For a full listing of events celebrating Black History Month, check out the events calendar. For more information, contact aasa@ucmerced.eduor Jason Juarez at 209-228-5323.