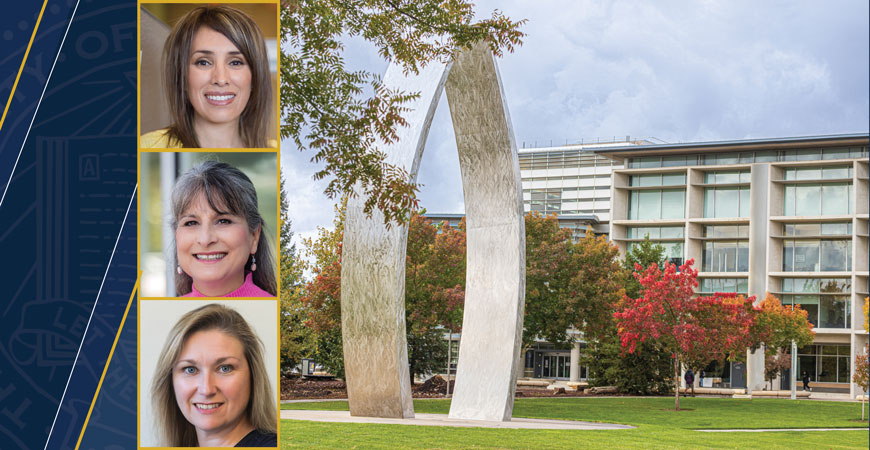 Innumerable changes have come to UC Merced since ground was broken for the campus in 2002. Some of the women who helped found the campus and remain employed by UC Merced, reflected recently on the changes in the university and themselves for Women's History Month.
Tammy Johnson, summer session director, said she came to UC Merced by chance. She was in the process of leaving her position managing the Introductory Biology Office at UCLA and relocating to Fresno when UC Merced's founding dean of the School of Natural Sciences (SNS), Maria Pallavicini, brought her into a meeting to discuss the introductory biology curriculum.
"I applied, thinking I would just help them get started," she said. "When the school brought on Marna Cooper as the first SNS assistant dean, Marna convinced me to commit longer term."
Teaching Professor Virginia Adán-Lifante said the chance to be part of a brand new University of California campus was a "very attractive opportunity."
Diane Caton worked at a local law firm with some of the early UC Merced supporters. She said
her colleagues laughed when she applied for a job as an administrative assistant in founding Chancellor Carol Tomlinson-Keasey's office.
"They didn't think we would actually build it," said Caton, now a business supervisor in the
Center for Business Services and Solutions. "Twenty years later, here I am."
Senior compliance analyst Rachel Hadley, then an accountant, was asked to interview at the university to see if she'd be a good fit. At the time, it wasn't exactly brimming with employees.
"(The registrar) had to provide documentation to the UC Office of the President about how many faculty we had in 2004," she said. "He sent a picture with one bare foot, his left hand open and three fingers showing on his right hand to denote our original 13 faculty."
Carmen Middleton started at UC Merced in 2005 as a baker. That was followed by positions in
the Office of International Affairs and in the provost's office. She now works as a research coordinator in the university's Health Sciences Research Institute.
"I worked my way up," said Middleton. "The environment here has made me comfortable and
successful."
All the women said the opportunities they have had and challenges they have faced over the years have kept them at UC Merced.
"I've had opportunities here I'd have never been given on a more established campus," Johnson said. "I started Summer Session as a stand-alone department, I wrote the proposal that founded Extension and went on to help conceive of and launch the Teacher Preparation Program in Extension. I would have never had those types of opportunities anywhere else."
Adán-Lifante said her students have kept her at UC Merced.
"I always felt very fortunate to work with students who want to learn, despite the difficult situations in which sometimes they are," she said. "My experience in Merced has been full of opportunities to help me grow as a person and as a professional."
While the 20th anniversary of the groundbreaking for the university provided an opportunity to look back, the founding faculty and staff also are looking ahead to a bright future.
"I work with terrific people," Hadley said. "I have received support to participate in various activities on campus, including Staff Assembly and being a docent on the nature reserve (after taking appropriate training); and over the years I have had opportunities to sail with some of our stellar staff and faculty on Lake Yosemite."
Born and raised in Merced, Johnson said she is proud to work at a university that is changing lives every day.
"People have had their lives changed for the better because of their educational experiences at UC Merced, but in a personal way rather than a graduation statistics dashboard," she said.
"I feel so fortunate to be a part of UC Merced."