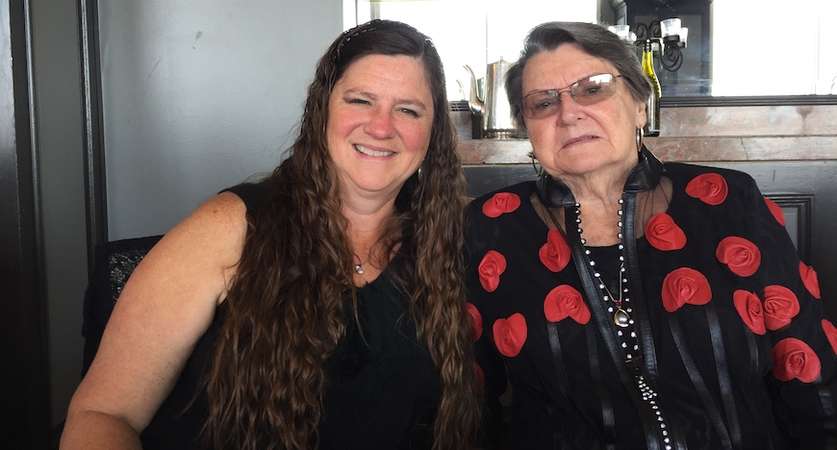 UC Merced undergraduates who dream of expanding their educational horizons by immersing themselves in foreign cultures and far-away countries now have access to vital financial aid for that goal, thanks to a generous gift from longtime Board of Trustees member, donor, and student support advocate Denise Watkins.
Motivated by her own life-changing experience in an international exchange program while earning her degree at UC Irvine, Watkins has established the Genelia Phillips Study Abroad Scholarship, UC Merced's first endowed fund to specifically support study-abroad opportunities for students. Created in honor of Watkins' mother, the scholarship pays tribute to Genelia Phillips' transformational impact on her family, whose worldview she expanded by hosting international students in their Palo Alto, Calif. home.
"We had students from Romania, Czechoslovakia, France, China, Taiwan, Norway, and England," said Watkins. "They were coming to study at Stanford predominantly. A lot of them had studied English, but did not speak it well. The household spent a lot of time helping them get oriented. Part of it was language education and part of it was cultural education."
These formative experiences during Watkins' childhood, interacting closely with educated and engaged students from all over the world, made a lasting impression on her - so much so that she recalled, "As I went to college it was in my brain, 'I want to study abroad,' because I saw how much it had meant to these people and how much they learned and grown from it."
Watkins elected to spend her study-abroad year in Sweden, facing the challenge of simultaneously learning Swedish for the first time and enrolling in courses conducted exclusively in the native language, including a particularly difficult high-level mathematics course, in a new and unfamiliar environment. "Not only was the language a barrier, but, in my opinion, academically the schools were stronger, so there was an expectation that I was supposed to really know everything," she said.
Overwhelmed and far outside of her comfort zone, Watkins said it crossed her mind to "give up and go home," but she instead dug deep to find the determination to remain and complete her year abroad. "Somewhere along the line I figured out that I could do it," she said, taking the initiative to find a study partner for her math course, which she passed the following spring, in addition to earning credits for a social anthropology course and a cumulative 25 units for Swedish language classes taken from the prior summer until the end of the academic year.
"It was a moment of huge personal growth," she said. "What I took away is that you are more capable than you think you are, and you can overcome the challenges that are put in front of you. I probably never had to work as hard as I did until then."
Providing UC Merced students access to these valuable and transformational lessons are part of Watkins' goals in creating and endowing the Phillips Study Abroad Scholarship, most notably by helping lift financial barriers associated with international study, such as the high price of travel, housing, and everyday living expenses. An estimated 40% of UC Merced undergraduates demonstrating an interest in studying abroad cited costs as one of the reasons for ultimately withdrawing. The new scholarship is a major first step in helping improve the rate of student participation.
In 2022-23, the first two Phillips Study Abroad Scholarships were awarded. The inaugural scholars were Global Arts Studies major Audrey Svay, who spent the year in Seoul, South Korea studying at Yonsei University, and Political Science major Azul Torres Vargas, who attended the National Autonomous University in Mexico City, Mexico, and also participated in an internship at a local civil and family law during her year in the country.
"These past few months have taught me many lessons about who I am as a person and who I want to become," Vargas said about her time abroad. "This is an experience I will forever appreciate and hold close to my heart."
Watkins' dedication to UC Merced students and the entire campus community extends beyond her latest philanthropic commitment to international study. A member of the UC Merced Foundation Board of Trustees since the university's earliest days in 2007, including her tenure as Board Chair, she has focused much of her giving and advocacy on student support. Watkins also continues to dedicate her time and energy to the university through her latest role as co-chair of Boldy Forward, the first comprehensive fundraising campaign in UC Merced's history.
"I am deeply grateful to Denise for her unwavering support," said Vice Chancellor and Chief External Relations Officer E. Edward Klotzbier. "Her many contributions - from her service to her leadership to her personal philanthropy - have empowered the success of our people and programs for 16 years and counting. Her commitment to helping our promising students access study abroad opportunities is just the latest act of generosity among her expansive and magnanimous gestures to UC Merced."
"I felt very strongly ever since I first got to UC Merced that the university's interdisciplinary approach and teaching students how to work in project team environments is what education should be," said Watkins. "It has been fulfilling for me to be here because there is so much opportunity to really change lives."
Click here to support the Genelia Phillips Study Abroad Scholarship.