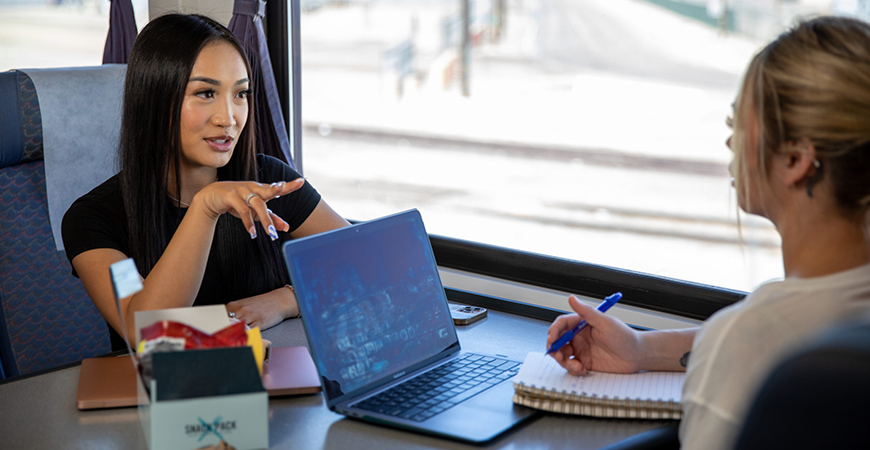 Whether it's a trip back home to visit family, a ride to see friends or simply a vacation, UC Merced students can choose among multiple ways to travel for spring break.
For the 2023 spring semester, UC Merced observes Spring Recess Monday, March 27 — Thursday, March 30. The Cesar Chavez Day holiday is celebrated Friday, March 31. Classes resume Monday, April 3.
Students who are looking to get away but have yet to make their travel plans can take advantage of some low-cost deals.
Train
Amtrak San Joaquins is a train and thruway bus service that connects riders to dozens of destinations throughout California, including Merced. Amtrak provides students with a year-round 15% discount on single tickets (using code V353 at checkout) and a 30% discount on ticket packages.
Bus
Greyhound offers bus service with stops in many cities, including Merced. With the purchase of the Student Advantage Card, students can save 10% on any Greyhound fare. The card also offers discounts on other products and services.
Yosemite Area Regional Transportation System (YARTS) provides bus service to and from Yosemite National Park and surrounding communities. In Merced, students can board the bus at the Merced Airport, Merced Transpo and Amtrak station. Students can buy a commuter pass and receive a $10 discount.
Air
Merced Regional Airport and Fresno Yosemite International Airport offer daily flights within California and to other states. Merced's airport is about 10 miles from campus, while the Fresno airport is approximately an hour away.
Students who need to get to and from campus can use CatTracks for free. Route schedules are available on the Transportation and Parking Services (TAPS) webpage.