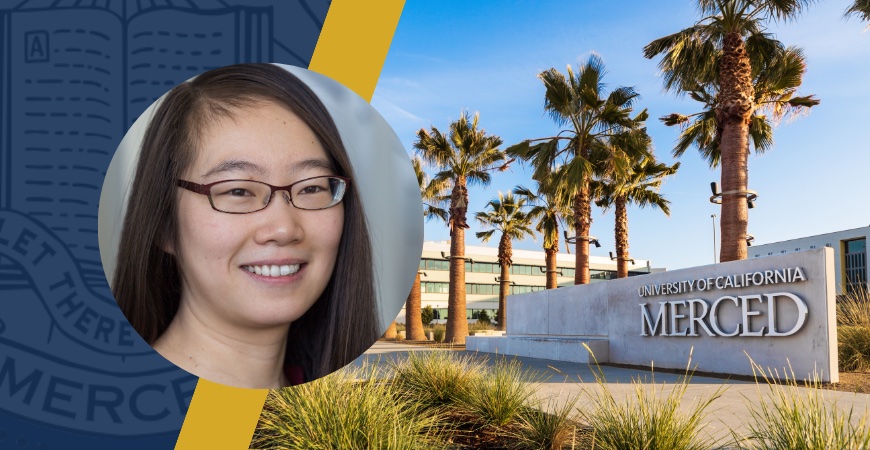 A UC Merced Materials Science and Engineering professor recently earned a prestigious award from the Army Research Office, a directorate of the U.S. Army Combat Capabilities Development Command Army Research Laboratory.
The Army Investigator Award is the third early career award for Yue "Jessica" Wang. Previously, she received the National Science Foundation (NSF) CAREER award in 2019, and the Beckman Young Investigator (BYI) Award in 2020.
"Professor Wang is the first and only person to receive the BYI from UC Merced, and also may be the only faculty to receive three different early career awards," said Rakesh Goel, dean of the School of Engineering.
The newest award will fund Wang's continued research. Her lab is working to create electronic materials that are tolerant to damage and can transform between hard and soft states, mimicking the properties of sea cucumbers.
These materials may find applications in wearable electronics, where they can be wrapped around arms in the soft state and move with the body, but transition to the hard state for typing or other functions.
"They can also bring new opportunities to soft robotics, where the robots can deform and squeeze through tight spaces in the soft state, but recover to the hard, tough and load-bearing state for rescue missions," Wang said. "This award will allow our lab to venture into this new research direction, which is truly exciting."
Wang joined the campus in 2017. She and her lab have been working to make organic polymers that can be turned into wearable, foldable, recyclable, biodegradable electronic devices including cell phones and medical monitors.
Wang's accomplishments in her time at the campus are remarkable, said Professor Valerie Leppert, chair of the Department of Materials Science and Engineering.
And each of the awards has its own focus, which Wang said is particularly gratifying.
"Each of my early career awards funds a unique research direction," Wang said. "It has been a privilege to have the vision and creativity of our lab being recognized by multiple awards."