Advancing circular bioeconomy technologies in North San Joaquin Valley" will provide transformative change to the local agricultural and manufacturing landscape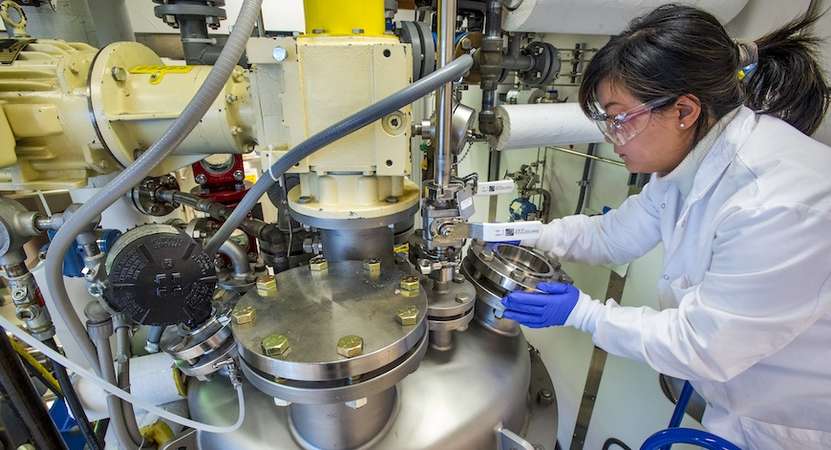 The Circular Bioeconomy Innovation Collaborative (CBIO Collaborative) has been awarded $1 million from the U.S. National Science Foundation's (NSF) Regional Innovation Engines program for "Advancing Circular Bioeconomy Technologies in North San Joaquin Valley."
The CBIO Collaborative is among the more than 40 unique teams to receive one of the first NSF Engines Development Awards, which aim to help partners collaborate economic, societal and technological opportunities for their regions.
The CBIO Collaborative is a regional effort with partners from throughout the Northern San Joaquin Valley to create a robust ecosystem that accelerates the development of innovations in bioindustrial manufacturing, improves environmental sustainability across the food and agriculture supply chain and nurtures a more vibrant, inclusive economy to create family-sustaining jobs. The team is led by UC Merced, BEAM Circular and Lawrence Berkeley National Laboratory.
"The CBIO Collaborative is an unprecedented effort to take the lead in bioindustrial manufacturing," said Professor Paul Maglio, director of the Division of Management and Information at UC Merced and principal investigator on the project. "The NSF Engines Development Award is a vital investment in the ambitious but attainable goals we have set, providing us the time and resources to create an inclusive plan to leverage our region's rich agricultural assets and innovation potential to establish sustainable industry and jobs in the North San Joaquin Valley."
The NSF Engines program is a transformational investment for the nation, ensuring the U.S. remains in the vanguard of competitiveness for decades to come.
"These NSF Engines Development Awards lay the foundation for emerging hubs of innovation and potential future NSF Engines," said NSF Director Sethuraman Panchanathan. "These awardees are part of the fabric of NSF's vision to create opportunities everywhere and enable innovation anywhere. They will build robust regional partnerships rooted in scientific and technological innovation in every part of our nation. Through these planning awards, NSF is seeding the future for in-place innovation in communities and to grow their regional economies through research and partnerships. This will unleash ideas, talent, pathways and resources to create vibrant innovation ecosystems all across our nation."
The CBIO Collaborative is a truly regional project, with government, business, community and education entities from Merced, Stanislaus and San Joaquin counties taking part in the organization. Members of the leadership council range from local business and industry groups to state government agencies to environmental groups.
"The Circular Bioeconomy Innovation Collaborative is a tremendous example of California's leadership in building the green industries of the future," said Kaina Pereira, senior advisor for business development at the Governor's Office of Business and Economic Development.
"Our agricultural heartland is exactly the place to launch and scale innovative solutions in the bioeconomy that benefit workers, communities, and our food system while advancing the state's climate priorities. This development award from NSF is fantastic recognition of the North San Joaquin Valley's role as a global leader in the bioeconomy."
The joint effort builds upon the BioEconomy, Agriculture, & Manufacturing (BEAM) Initiative, a new strategy for growing regional leadership in the bioeconomy that was catalyzed by inclusive economic development planning initiative Stanislaus 2030.
"This collaboration is about generational change," said Karen Warner, project co-director and CEO of BEAM Circular, a new hub for the bioeconomy launched in conjunction with nonprofit organization Opportunity Stanislaus. "The North San Joaquin Valley is positioned to lead the way on transformative innovations in the bioeconomy that support local communities, strengthen our food system and advance global environmental solutions."
"Innovation in biomanufacturing is at a tipping point. We need direct leadership from agricultural communities to scale up our most promising opportunities. CBIO Collaborative will offer opportunities for leading scientists and innovators in this sector to connect directly with upstream and downstream collaborators, as well as to build up the local talent pipeline we need to bring these innovations to market," said Deepti Tanjore, project co-investigator and Director of the Advanced Biofuels and Bioproducts Process Development Unit at Lawrence Berkeley National Laboratory.
The awardees span a broad range of states and regions, reaching geographic areas that have not fully benefited from the technology boom of the past decades. The NSF Engines Development Awards will help organizations create connections and develop their local innovation ecosystems within two years to prepare strong proposals for becoming future NSF Engines, which will each have the opportunity to receive up to $160 million.
Launched by NSF's new Directorate for Technology, Innovation and Partnerships and authorized by the "CHIPS and Science Act of 2022," the NSF Engines program uniquely harnesses the nation's science and technology research and development enterprise and regional-level resources. NSF Engines aspire to catalyze robust partnerships to positively impact regional economies, accelerate technology development, address societal challenges, advance national competitiveness and create local, high-wage jobs.
View a map of the NSF Engines Development Awards . More information can be found on the CBIO Collaborative website and NSF Engines program website .
NSF media requests: media@nsf.gov
UC Merced media contact: Patty Guerra, pcortez8@ucmerced.edu