Keeping a community clean takes a lot of effort and sweat equity from the people who call it home. That's why Bobcats rolled up their sleeves and got to work to make the area right outside UC Merced look its best.
Several students volunteered their time to pick up litter from the bike path along Lake Road on April 20. The event was hosted by the UC Merced Police Department Mentor Program, which recruits Bobcats to be role models for elementary students.
The police department's Student Service Ambassadors (SSA) led the cleanup project, but these events are open to everyone, including students, faculty, staff and area residents. It's also the perfect opportunity for anyone who needs to record volunteer hours.
Volunteers reported finding small plastic bottles and many cigarette butts on and near the bike path. On a previous occasion, they found a wallet that was later returned to its owner.
Participants this time around included Jonathan Tam, a third-year student from San Francisco. This was his first time taking part and representing Alpha Phi Omega — a co-ed fraternity that provides community service.
"I love giving back to my community," Tam said. "The opportunity to do this on a large scale is what I've been trying to achieve since high school, and this fraternity opens those doors to it."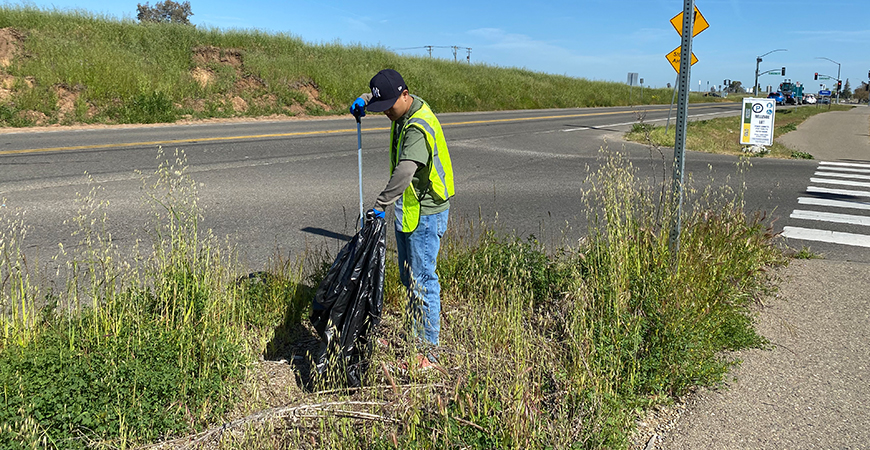 Fourth-year student Valeria Gentil of Montebello enjoyed her first cleanup event so much that she decided to come back a second time to ensure the area remains clean and safe for everyone.
"I think it's super important that we take care of the area because this is where our food and water come from, and its's really part of our campus," she said.
She was accompanied by fellow SSAs who meticulously inspected the bike path, making sure no piece of trash was overlooked.
April Muñoz, a fourth-year student from San Jose, also enjoyed the experience and invited others to join future cleanup initiatives.
"This is very important. You see the work you're putting in and it's appreciated. With this cleanup, we're also helping the wildlife in the area," she said. "People should definitely try it, not just to give back to the community but also to meet new people and learn more about resources on campus."
More information about the Mentor Program is available online. The UC Merced Police Department also posts upcoming event details on Facebook, Instagram and Twitter.