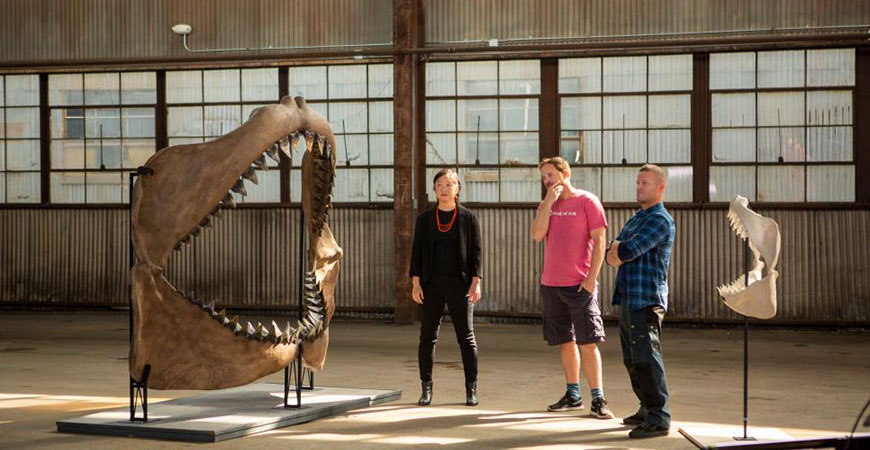 UC Merced 's resident expert on the nightmarishly massive megalodon will play a role in Discovery Channel's Shark Week, a celebration of the toothy creatures at the top of the oceanic food chain.
Professor Sora Kim will be featured in a show called "Jaws vs. The Meg," in which she and other experts discuss and compare two of the largest predators to ever roam the oceans.
Megalodon appeared about 23 million years ago and reigned the seas for 21 million years, going extinct about 2.5 million years ago. In 400 million years of shark evolution, megalodon is the biggest shark species that ever lived, growing to 50-60 feet long, or three times the size of the largest of today's great whites.
Paleoecologist Kim has been researching megalodon and why the species went extinct using the stable isotopes in fossil teeth, which are found in nearly every ocean on the planet. The isotopes have been able to tell her and other researchers about megalodon's diet, its environment and its physiology. Most recently, the research revealed megalodon had much warmer blood than previously thought, which was both an advantage and also might have contributed to the species' demise.
"Jaws vs. The Meg," she said, allowed her to talk about the size of the teeth and her chemistry methods.
"There's also some banter about who would 'win' in a competition for resources between Meg and white sharks," she said. "While Meg is bigger, that means it needs more resources, especially if it's endothermic and feeding at the top of the food chain.
"There were shifts in the Earth's climate and oceanography, which also likely contributed to the demise of Meg.
"Ultimately, white sharks are the 'winner' because they are still around, and Meg went extinct."
Shark Week starts July 23. "Jaws vs. The Meg" premiers that night. Check local listings for the time.