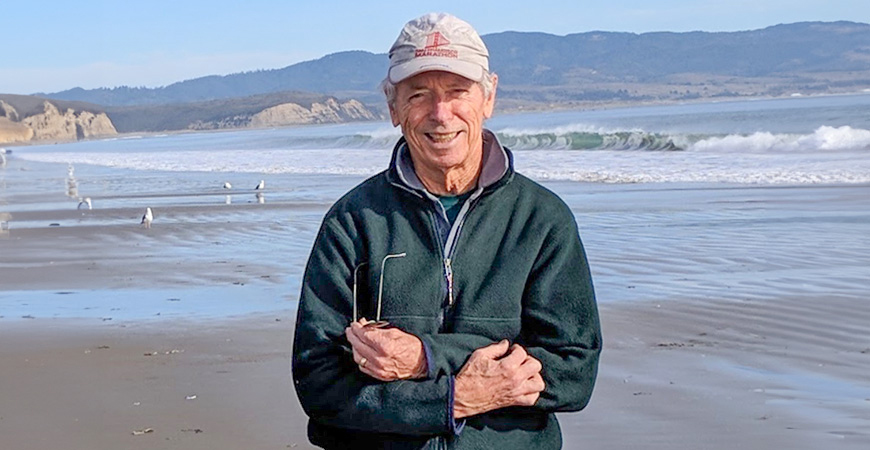 Christopher L. Adams, who left an indelible mark on UC Merced through his significant contributions as the campus's lead architect and master planner, passed away on August 11, 2023, in Berkeley. He was 86.
Adams was tapped in January 1999 to serve as the founding planner for development of the University of California's 10th official campus got underway. Adams's appointment followed a tenure at the University of California Office of the President that spanned nearly three decades and included his role as the institution's director of Long-Range Planning. His prior experiences included work as an architect, city planner and urban designer in Montreal and Switzerland.
From the very start of his involvement in creating the new university, Adams' vision was firmly rooted in the deeper and distinct sense of "place" associated with the excellence and prominence of a UC campus. In a 2005 article titled, "UC Merced: Time Will Tell," co-written by Adams and UC Merced Campus Design Consultant John Kriken, the authors noted, "The University of California has a basic mission in the state for research and historically has served as the primary public institution for residentially focused undergraduate education. A UC campus is more than individual buildings to be inserted into the fabric of a town; it requires quasi-industrial districts for research, larger playing fields, and significant land reserves for the housing of students and faculty."
Anticipating the rapid expansion of UC Merced, along with his observations of the development of sister UC campuses throughout the second half of the 20th century, Adams sought to ensure that land was available for all levels of the university's growth, with a special priority placed on reserves for faculty housing. He and Kriken strongly believed this consideration would allow Merced to remain competitive in faculty recruitment efforts, as it would help mitigate the expected increases in the region's housing costs.
Adams' daughter, Caroline C. Adams, recalled that her father's commitment to honoring Merced's sense of place was reflected in his fondness for the community, in which he completely immersed himself during the university's development. "He rented a mother-in-law unit near the campus site and lived there during the week, commuting back to Berkeley on weekends to be with my mom, who was still working at UC Berkeley," she said.
In addition to being an avid jogger who would get up early each morning to run through the neighborhoods of his adopted home, Adams bonded with his elderly neighbor over a shared love of cooking as well as her willingness to be a sounding board for his thoughts on campus planning. "He would ask and appreciated her opinion as a longtime resident of Merced," said Caroline. "I think all that played a significant role in his ethos in designing the campus."
This ethos was also evident in Adams' foresight that UC Merced's function as a catalyst for change and growth was tied to its relationship with the city itself. He and Kriken wrote, "In the long run (which is the only way to consider a university master plan) we believe that Merced, the campus, and Merced, the town, will develop jointly as a thriving and exciting community."
A University of California alumnus himself, Adams received his Master of City Planning (MCP) degree from UC Berkeley. He continued to be a dedicated supporter of UC Merced after his campus architectural duties concluded in 2005. He and his wife, Jane, established the Caroline L. Adams Endowed Scholarship in honor of his mother, who was a member of the first class to attend UCLA's Westwood campus and believed deeply in the value of higher education – a priority and passion she passed along to her son.
In addition to Jane and his daughter Caroline, Adams is survived by his son-in-law, Jeme Brelin, and his grandson, Orestes Brelin.
A memorial will be held in early 2024. To receive details about the service as they become available, email christopheradamsmemorial@gmail.com.