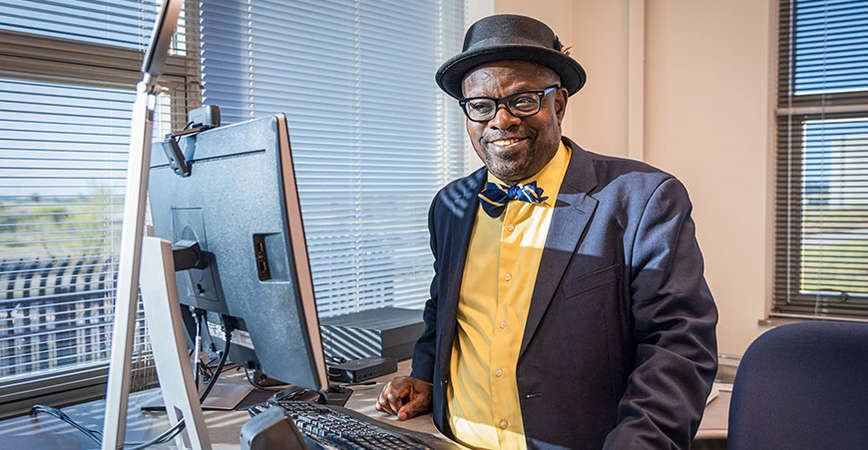 University students deserve to feel welcome and safe in their home away from home. It's a responsibility Daniel Okoli assumes without hesitation. He has designed countless physical spaces for scholars and teachers. As a foreign-born man of color, he has faced bigotry and injustice. As a child of war, he has seen the unspeakable cost of hatred and conflict.
As an interview subject, he's a thrumming engine of enthusiasm, talking animatedly about boundless possibilities for the central San Joaquin Valley's young research university, and of the people who come to UC Merced to study and inquire.
"So the opportunity here is, a new campus, you're almost like a startup," said UC Merced's vice chancellor and chief operating officer, approaching a year on the job at a 20-year-old campus. "How can we take advantage of this youth, have the hunger to keep growing while remaining sustainable? How do we add more buildings, start more programs, and not run into the problems experienced by a lot of older universities, where their vision was too small?"
Okoli was referring to campuses that squeeze against their urban neighbors, driven by growth in both directions, each jockeying for acreage. It's a staredown of steel, concrete and community meetings he has experienced at campuses from New York City to Arizona in a four-decade career as an architect, facility planner and educator.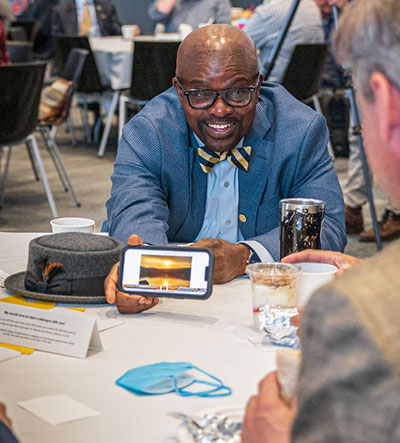 It's an emphatically different dynamic at UC Merced – a gleaming island in a sea of pasture and plantings. Fresh buildings, none more than two decades old, stretch out between broad pedestrian thoroughfares. The campus has been carbon-neutral for more than four years, allowing no net release of carbon dioxide into the atmosphere. Everywhere you turn sustainability reigns.
"There are new opportunities that this university offers that many places don't," Okoli said. "A lot of older campuses have this intimate dialogue with the city in a physical sense. There was little planning about such engagement before it got to that point. We have the opportunity now to plan how we and the community will come together."
"Dan is always capable of seeing the positive side of any situation," said Kurt Schnier, interim vice chancellor and chief financial officer. "He views every challenge faced by the campus as an opportunity to improve it."
Grace Okoli, who has enjoyed a courtside view of her husband's career, concurs.
"Dan is a high-energy person. He's able to overcome a lot of what people would call obstacles," she said. "He sees them as opportunities to get to the next level and to move things forward. He just buries himself in it and makes it work."
Dan is always capable of seeing the positive side of any situation. He views every challenge faced by the campus as an opportunity to improve it.
And as he works on these planning processes – "grabbing it with both hands," as he puts it – Okoli always has the students in mind. He wants to ensure there are spaces where they can connect and reflect. Students from rural hometowns have many opportunities to connect with nature on this campus, but he also envisions an Academic Lane that will pulse with a vibe of a street in San Francisco or Los Angeles.
The students deserve no less, said Okoli, who taught college-level math, architecture, African-American studies and other disciplines early in his career. He looks across campus and sees future presidents, CEOs, scientists and astronauts.
"I know that out of this campus will rise great men and women. They are all over. We're rubbing shoulders with greatness," he said.
"One of the things young kids struggle with when they come to a new environment is loneliness. If that is not addressed, we lose them. So we make our campus signal to them, 'This is your place. This is your home.'"
Okoli knows how tenuous a sense of home can be. As a native of Nigeria, he was a young boy when a nation already roiled by ethnic tensions, military coups and the end of British colonial rule fell into a civil war from 1967 to 1970. Okoli lived in the secessionist state of Biafra, which found itself surrounded by Nigerian troops. Up to 100,000 combatants perished before Nigeria prevailed. A government blockade triggered the starvation of more than a million Biafrans.
The young Okoli witnessed far more than his share of death and withering, emaciated people. One neighbor had a younger brother who, while visiting from out of town, died in an air raid. "I heard this grown man weep through the entire night," Okoli said of the neighbor. "Yeah. The entire night."
After the war, conditions were less harrowing but remained fraught. Biafrans, told their currency was no longer legal, were ordered to deposit their money in banks. In exchange they received 20 Nigerian pounds, even if their deposited amount was far greater, Okoli said.
"So, essentially, as a defeated people, everybody had to start from scratch," Okoli said, adding that young people like himself also missed three years of school.
At age 20, Okoli was sent to England to attend university, where he earned a bachelor's degree in architecture and engineering. Then it was off to the States, where he completed master's degrees in architecture and in African-American studies at The Ohio State University. He later earned an MBA from University of Arizona and a Ph.D. in philosophy, higher education leadership and administration from Colorado State University.
Along the way, he became an instructor at Ohio State's School of Engineering, then was brought on as senior architect for the university's planning and development office. He then served as university architect at Pace University in New York and the University of Wisconsin-Madison. Before coming to the Valley, he was vice president for capital planning and campus operations at Northern Arizona University in Flagstaff.
I know that out of this campus will rise great men and women. They are all over. We're rubbing shoulders with greatness.
While at Northern Arizona, he pulled together his staff to have an open and frank discussion following the killing of George Floyd by police in Minneapolis. His staff included campus police officers, and he understood they might feel targeted or demonized.
"So we had a conversation. 'What is happening out there? We need to talk about that.' And we allowed people to share," Okoli said.
He said he shared a personal story about driving one night in South Carolina in an unfamiliar neighborhood. It was the late '90s. He had a passenger who also was Black. He drove slowly, looking for the right street. Now and again they would slow and turn on a dome light to check a map (this was in the days before GPS).
A law enforcement officer pulled him over.
Okoli gave the officer his license and registration. The officer asked, Do you know why I stopped you? Okoli replied that he didn't.
"He said, 'You were speeding.' I wanted to bust out laughing but I didn't. This was serious," Okoli said. The officer went to his vehicle for a while, returned, gave Okoli a generic warning, and let him go.
"It was profiling," Okoli said. "Two Black men there in rural South Carolina, driving a brand-new Oldsmobile 98. They must be up to no good."
Okoli's experience resonated with his Northern Arizona staff, and not just because of its unsettling details. The revealing story fit their boss' open style of communication and his desire for give-and-take. He has brought that style to UC Merced.
"I really appreciate Dan's leadership, especially his approaches to communication and teamwork," said Jon Lampman, UC Merced assistant vice chancellor for facilities operations and maintenance. "He is interested in sharing information, hearing feedback and being collaborative. He often shares the positive benefits of working as a team."
Because of the South Carolina encounter and so many other life lessons, Okoli spends time with UC Merced student clubs and is active in campus activities that champion equity and inclusion. Last year, Dan and Grace hosted about 20 students and advisers of the African Student Union at the Okoli home for Thanksgiving dinner – a memorable day for everyone, including the man determined to make this university a well-planned and daringly unique home away from home for the campus community.
"In discussions with him about our future facilities it is evident that he sees the campus as a large blank canvas on which we are going to paint the future," Schnier said. "Buildings are not just structures to him, they are part of the landscape and the palette.
"I am sure this creative eye will have a lasting impact on our campus' infrastructure and help create a sense of belonging for all of us."