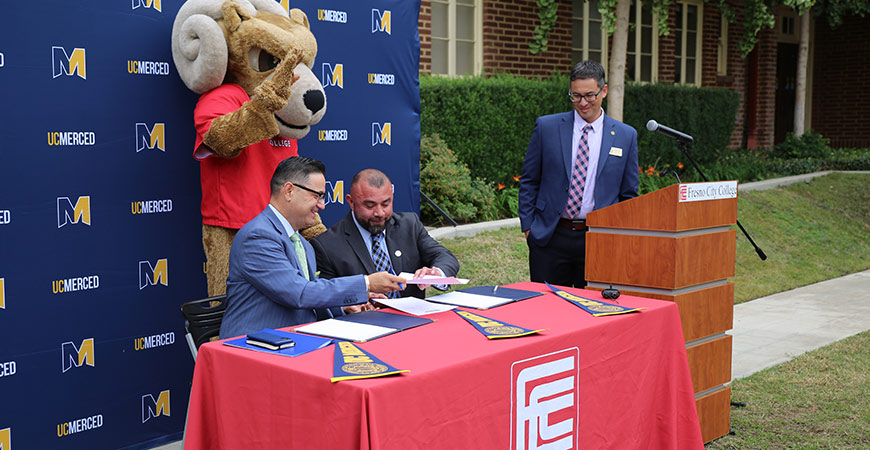 On Monday (Oct.31), UC Merced and Fresno City College (FCC) signed the Merced Promise Pathway Program memorandum of understanding (MOU). The signing of this MOU further extends access for transfer students in the Central Valley.
FCC is the largest community college in the Central Valley region. This partnership will provide students with a dedicated transfer counselor with expertise in UC Merced transfer admissions and knowledge of FCC support services.
"As UC Merced continues to strengthen partnerships across the Central Valley in support of student success, this MOU allows us to build on the great work of FCC to expand opportunities and create clearer pathways to support students' educational goals," UC Merced's Vice Chancellor of Student Affairs Charles Nies said.
Through this strategic partnership, students can participate in an array of programs that will prepare them to attend UC Merced, including overnight residential programs. They will engage with current UC Merced students and faculty before transferring and have a clear pathway to the university.
Staff and faculty at FCC will have the opportunity to participate in UC Merced's annual Community College Educator Program to solidify further both institutions' commitment to creating a transfer sending and receiving culture.
"The Merced Promise Pathway Program will provide better access to our students to continue their education and there will be many great opportunities for FCC students," FCC President Robert Pimentel said. "We are excited to strengthen our partnership with our neighbors to the north. This agreement will help provide a clear path for our students to transfer to UC Merced and stay closer to home."
Over three years, the university hopes to increase the number of transfer students from FCC to UC Merced by 100%.
This will be the second partnership between the university and a community college in the Central Valley. Read about the first partnership here.