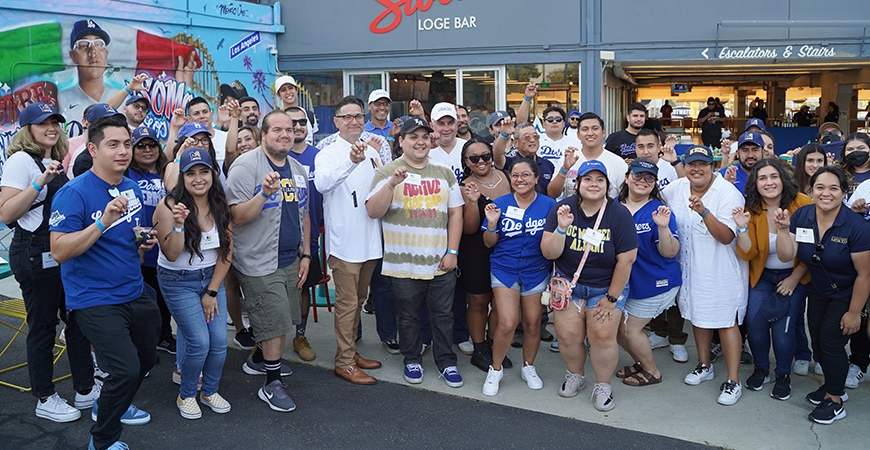 UC Merced alumni gave back to their alma mater in several big ways in 2022. From endowed scholarships to events, Bobcats are ensuring that current and future students have access to the best opportunities as they pave their own journeys at UC Merced.
Bobcats at Dodger Stadium
For the first time, UC Merced made its way to Chavez Ravine for the Bobcats at Dodger Stadium alumni event on Sept. 6. Alums from several classes had the chance to catch the Los Angeles Dodgers take on the San Francisco Giants. In the end, the Boys in Blue were victorious, 6-3.
But the real winners were the former students sitting toward right field. Not only were they able to chat with Chancellor Juan Sánchez Muñoz, UC Regent John Pérez, former School of Engineering Dean Mark Matsumoto and UC Merced trustees, but they also had the opportunity to network with other Bobcats and their families.
The event, which was organized by the UC Merced Alumni Association, was meant to bring the Bobcats together in a fun and lively atmosphere. Food, drinks and photo opportunities were also provided at the Right Field Loge Terrace.
Interest in the inaugural event was evident from the beginning; pre-game reception tickets were sold out within hours of the start of sale. To date, this has been the largest alumni regional event with 210 attendees.
Future alumni events are being planned, including in northern California. Alumni can stay in the know by following the Alumni Association on Facebook, Instagram and Twitter.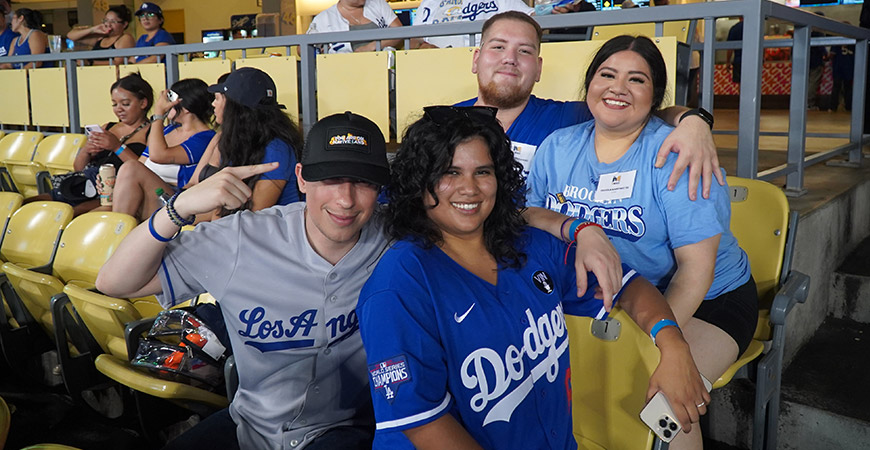 Alumni Signature Ceremony
The Alumni Signature Ceremony was held Oct. 15 on campus as part of Always Love UC Merced (A.L.U.M.) Day. First introduced in 2016, the special event honors UC Merced students and alumni who pledge $10,000 to establish an endowed scholarship fund.
The Office of Alumni Relations had not been able to host the celebration since 2019 due to the pandemic.
"This was a historic event because we celebrated the signing of the most gift commitments that we have ever done at one time," Vice Chancellor of External Relations Ed Klotzbier said. "These five new endowed funds are testaments of a truly exceptional group of alumni and supporters of the University of California."
The new endowed funds are:
A total of 18 alumni endowments have been made since 2015 by alumni staff, current and former Alumni Board members, alumni in the armed forces, alumni who made their pledges as students, community members and many who believe in UC Merced.
"Once the pledge is completed, the endowment continues to grow year and after, eventually awarding an annual scholarship of $1,000 or more to a student pursuing their dreams," Associate Director of Alumni Relations Jessica "JaeJae" Julian ('10) said. "This is the transformative impact and lasting legacy our alumni make right here at UC Merced."
Since 2019, alumni giving has more than tripled and nearly $150,000 was donated in 2021. Despite the pandemic, nearly 10% of the entire alumni population made gifts to their alma mater last year.
At UC Merced, nine out of 10 students receive some form of financial assistance. Every donor and every dollar make a difference. Alumni wishing to take part in the UC Merced Alumni Endowed Scholarship Program can visit the UC Merced Alumni webpage or email alumni@ucmered.edu.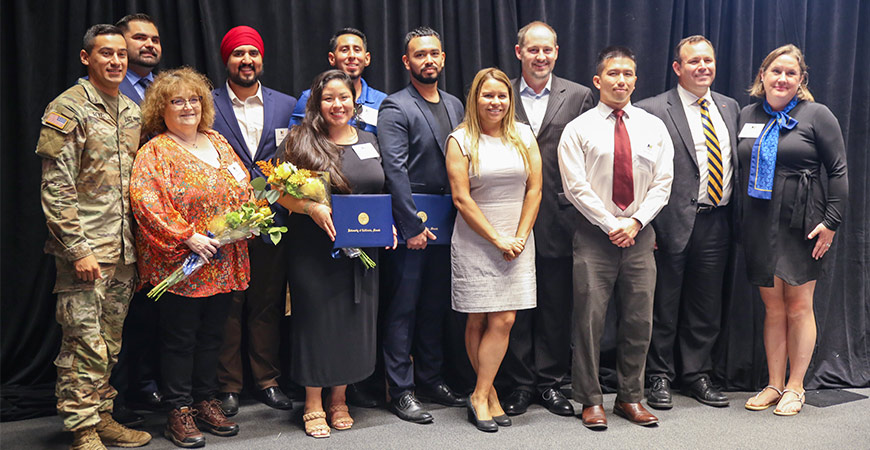 Give to UC Merced
The season of giving is in full swing at UC Merced as Give to UC Merced 2022 continues through the end of the year. The campus's annual fundraising initiative officially kicked off on Giving Tuesday and lasts until Dec. 31. This marks the third year that UC Merced has extended the campaign from its original 24-hour period to an entire month.
This year's goal, which has already been eclipsed, was to raise $150,000 by the end of the month, up from last year's goal of $100,000. Donations can still be made and designated to a wide range of programs and initiatives, including research, academic support and direct financial aid — including scholarships and fellowships — to undergraduate and graduate students.
Additionally, every dollar raised as part of Give to UC Merced will count toward Boldy Forward, the university's first comprehensive fundraising campaign, which aims to raise $200 million by 2030.
Anyone wishing to make a donation can visit the Give to UC Merced webpage.
Dream Big and Help Others
Giving back to UC Merced has been on the minds of many since the very early years of the university's existence.
In her keynote address to the Class of 2009, then-first lady Michelle Obama asked the graduating pioneers to dream big, think broadly about their lives and make giving back to their communities a part of that vision.
"Remember that you are blessed. Remember that in exchange for those blessings, you must give something back," she said. "You must reach back and pull someone up. You must bend down and let someone else stand on your shoulders so that they can see a brighter future."
Many alumni have provided financial support, while others have donated their time and efforts — all of which have benefitted thousands of students. There are multiple ways to give back to UC Merced, and the Alumni Association has more information on its webpage to help make those visions come to life and allow the journey to continue for generations to come.