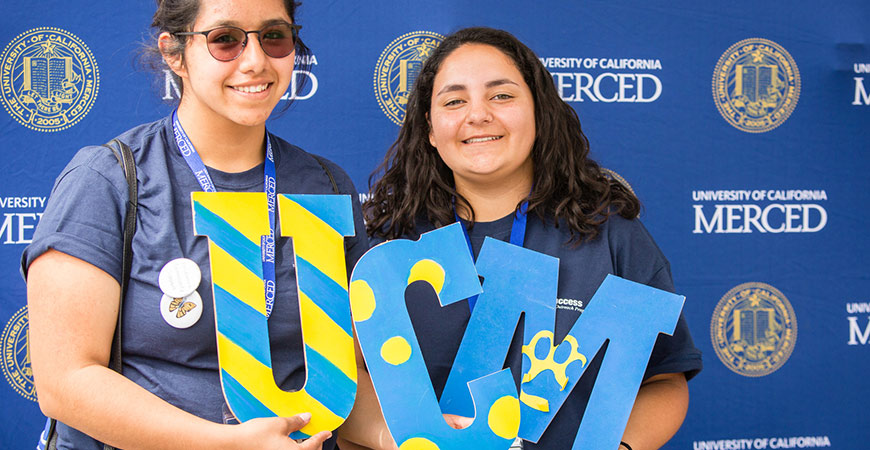 After a three-year delay due to the pandemic, Bobcat Day is back at UC Merced. The day is dedicated to first-year students, transfer students and their families to explore all the campus has to offer.
On Saturday, April 23, incoming students can take campus tours, meet with faculty, attend presentations from each of the academic schools, talk to Financial Aid and Admissions staff, discover student clubs and organizations, and much more.
The open house event kicks off at 9 a.m. with a presentation, and tours of the campus run from 10 a.m. to 2 p.m.
For the first time, the campus will see its first cohort of students from Merced Union High School District (MUHSD) who were automatically admitted to UC Merced through the Merced Automatic Admission Program (MAAP). Those students completed specific requirements at graduation, including a weighted GPA of 3.5 with no grade lower than a "C."
Also, this year, the campus expects to welcome those transfer students from Merced College who were accepted through the new transfer pipeline. The Merced Promise, the partnership between UC Merced and the community college, allows transfer students to complete their bachelor's degrees at the university without having to leave home.
As a way to enjoy all of what Bobcat Day has to offer, be sure to wear comfortable shoes and bring sunscreen, because you will spend a lot of time outdoors. The campus will provide water refill stations for those who bring refillable bottles.
For more information about the event and to register, visit the Bobcat Day website.

Public Information Officer
Office: (209) 746-5137