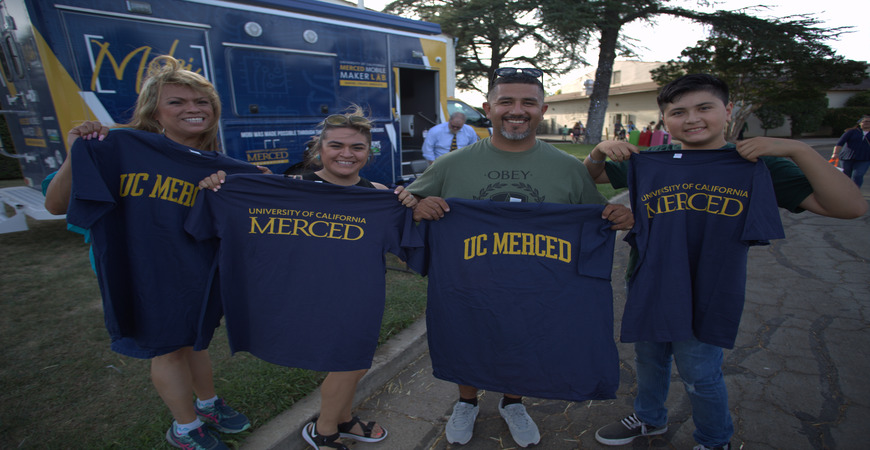 The Merced County Fair returned after a multi-year hiatus due to COVID-19, and UC Merced's booth was a popular spot for the five-day run. Along with swag such as pennants and t-shirts, people who stopped by received information about the campus and its schools and majors. Fairgoers were also provided information about UC Merced's growing list of accomplishments, the institution's contributions to the community as well as literature that described how to apply to the university.
UC Merced also showcased its Mobile Maker Lab, aka Mobi, to the public. Supported by the UC Merced Foundation Board of Trustees, Joseph Gallo Farms and HP, Mobi is used by faculty and students to bring STEM-related activities and experiments to schools and events throughout the community.
"We are thrilled to have the fair back and it was wonderful to have so many people visit our booth to learn about UC Merced," said Director of Public Relations Sam Yniguez. "We are proud of the work being done on our campus, and our intent was to shine a spotlight on that work in an effort to sway the youth we met to attend."  
Volunteers from UC Merced's Community Engagement Center also joined in the festivities, as well as graduate students from the RadioBio podcast who handed out hundreds of free science kits to kids. The kits were made by the students and came complete with materials and instructions to make a terrarium, extract DNA from a strawberry, create a plant press as well as other activities.
"We spent a lot of time putting the kits together and we appreciate the UC for this opportunity to pass them out and get the word out about our program," said RadioBio President Ronnie Hall, a Ph.D. student in Quantitative and Systems Biology. "We hope they provide kids with hours of educational fun this summer."
Requests to have Mobi appear at a school or community function may be made via email at pr@ucmerced.edu.