Today (Sept. 7), UC Merced Chancellor Juan Sánchez Muñoz and Mayor Matt Serratto met with Secretary Lourdes M. Castro Ramírez of the California State Business, Consumer Services and Housing Agency to discuss ways to add more affordable housing developments in Merced and throughout the region.
According to the National Low-Incoming Housing Coalition, the United States has a shortage of 6.8 million affordable homes available, including a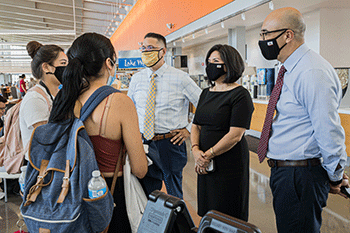 lack of over 2.3 million affordable rental homes in California.
"We want the Merced community and all the surrounding areas to continue to thrive," Chancellor Muñoz said. "UC Merced understands there is a severe housing shortage and by adding more affordable homes, it will not only help our students, faculty and staff  but the entire community to find low-cost housing and I hope we can work together to create a concrete plan to start remedying this shortage."
"California is moving swiftly to address housing insecurity and build more homes affordable to all Californians," Secretary Castro Ramírez said. "As we make these investments—made possible by the Legislature and Governor Newsom— we are leading to ensure geographic equity so that communities like Merced receive support and are able to access these resources to increase housing stability and opportunity."
Governor Gavin Newsom's state budget includes the biggest economic recovery package in California's history – a $100 billion California Comeback Plan. The California Comeback Plan focuses on providing relief to those that need it most and major investments to address the state's most persistent challenges including the housing affordability crisis. The plan includes more funding for new affordable housing than ever before. It will put over $3 billion into building more affordable housing for low-income families and creates homeownership opportunities to help restore the California Dream.
Governor Gavin Newsom appointed Secretary Castro Ramírez in March of 2020 to serve as Secretary of the Business, Consumer Services and Housing Agency. She oversees 11 entities responsible for expanding affordable housing, developing comprehensive solutions to end homelessness, guarding civil rights protections, regulating banking and financial services, and strengthening consumer protections with the licensing of nearly 4 million working professionals.
City leaders plan to discuss additional strategies that will create a plan to implement more affordable accessible homes in the area during September's council meetings.
Besides Muñoz, Serratto and Castro Ramírez, Tuesday's roundtable included Gustavo Velasquez, Director of the California Housing and Community Development Department and local community leaders.  

Public Information Officer
Office: (209) 746-5137