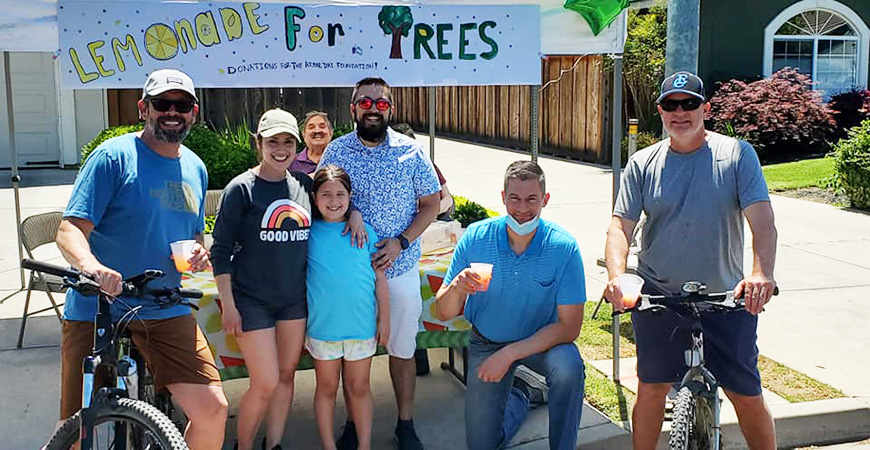 A core tenet of UC Merced's mission is public service, something staffers Tom and Esmeralda Martinez know all about thanks to their daughter.
On June 5, Merced natives the Martinezes and their 7-year-old daughter, Adison, worked alongside community members and city leaders to clean up Rahilly Park and the Black Rascal Creek bike path in North Merced. Professor Michele Nishiguchi, Professor Katrina Hoyer and her family, staff member David Gravano with Office of Research and Economic Development and his family, and other campus community members pitched in picking up litter, painting park benches and more.
But even before the cleanup began early that morning, something special occurred.
Merced Mayor Matthew Serratto officiated a tree planting ceremony to name "Adison's Grove at Rahilly Park," in honor of Adison Martinez, who raised money from a lemonade stand to buy tree saplings.
"Thanks to Adison Martinez and her family for making this happen," Serratto said.
It all started in April, when the mayor visited Miss Dani Avila's second grade class at Burbank Elementary and talked about what it's like running the city.
"I asked him if it is harder for animals to live when housing is built. He said it was because they get rid of the trees and stuff," Adison Martinez said. "So I thought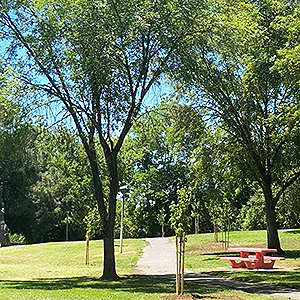 raising money to plant more trees would provide the animals new homes."
The class was assigned to write a letter to the mayor, and in her letter, Adison Martinez detailed her idea to host a lemonade stand. "The money I raise will buy baby trees," she wrote.
"In first grade, I wanted to have a lemonade stand because I thought it would be fun," she said in an interview. "Then my friend Logann did a lemonade stand, and she raised money for CASA. So I thought I might do something nice for the Earth."
The Martinizes spend a lot of time outdoors, riding bikes and visiting Yosemite and the coast, so it wasn't a complete surprise that Adison wanted to help the environment.
"Adison's been in nature since she was a little girl. Nature is something near and dear to my heart. It is something my family did for fun, we didn't go to theme parks," said Esmeralda Martinez, who has worked at UC Merced for 13 years and currently works as an analyst in the Academic Personnel Office.
However, the couple was in awe of their daughter's passion to help.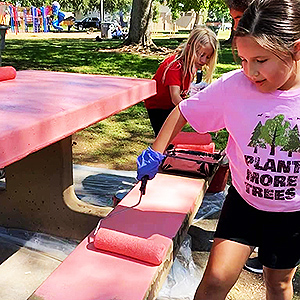 "I'm kind of floored that she is so young and thought of this," said Tom Martinez, a UC Merced alumnus who graduated in 2010 and has worked for the campus for 15 years.
Adison Martinez put her plan on paper and even created a video to help advertise her fundraiser. With her family's help, she held the lemonade fundraiser May 1 on the bike path near Rahilly Park, close to their home. Her teacher, classmates and many others stopped by and helped her raise the $1,020 that they initially planned to donate to the Arbor Day Foundation.
The mayor was her last customer. "I think he had five cups; he was thirsty!" Adison Martinez said.
Serratto asked her if she'd like to use her donation to make an impact locally.
We've seen the university transform the city with tons of new businesses, vibrancy and people from all walks of life coming in. Being a part of that, and having my daughter now be a driver of change, is super amazing.
"We walked over to Rahilly Park together and that's when the magic happened," Esmeralda Martinez said. "It all started to fall into place."
The mayor suggested they piggyback on the tree planting ceremony with a scheduled cleanup event at Rahilly Park on June 5. Adison Martinez agreed and later picked out the locations where the trees would be planted.
"I couldn't believe we went from her letter being written to seeing it come to fruition," Esmeralda Martinez said. "I asked her, 'Did you know when you wrote that letter that it would happen?' And she said, 'Well, I was hoping for it!'
"I cried."
Tom Martinez, who works as a department support supervisor in the School of Natural Sciences, said he's seen a lot of positive change since UC Merced was built in his hometown.
"We've seen the university transform the city with tons of new businesses, vibrancy and people from all walks of life coming in. Being a part of that, and having my daughter now be a driver of change, is super amazing," he said.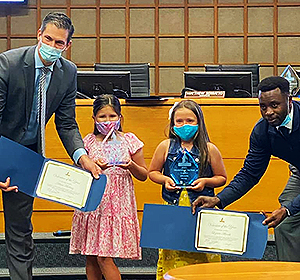 Earlier this week, Adison Martinez was honored as a 2021 City of Merced Volunteer of the Year for her fundraising efforts at the city council meeting, along with her classmate Logann Albrecht and the rest of this year's honorees.
"All of them stepped up big, like true heroes do, when we needed them most during this especially difficult year for our world," Serratto said. "It takes all of us stepping up and taking pride in and responsibility for our city."
Adison's parents said they are committed to continuing to stay involved in the community and will participate in the city's next park cleanup day on Aug. 14.
"She is so different than us; we are both shy. She put us in the position to try new things and meet new people," Esmeralda Martinez said. "She has allowed us to be better people."
Adison Martinez also plans to continue to serve.
"Every year, I want to do something on a special day and do something nice for the Earth," she said.
Senior Public Information Representative
Office: (209) 228-4203
Mobile: (209) 628-8263