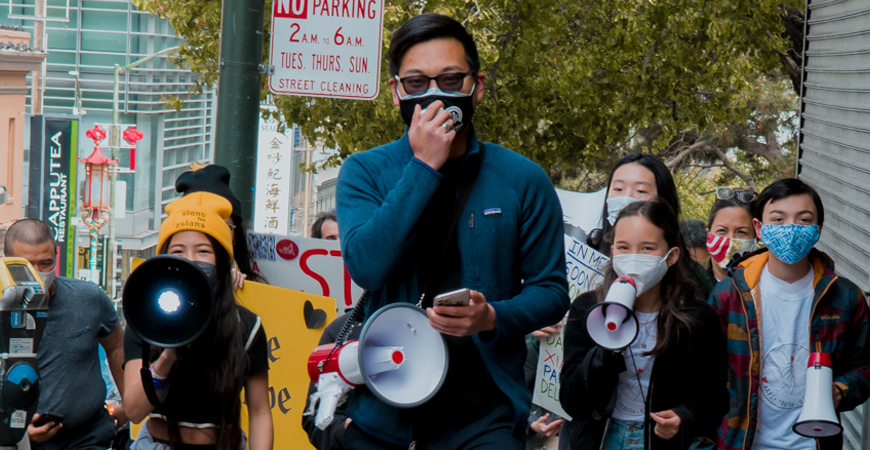 Sang Hoang ('20) says he has had enough. The University of California, Merced alumnus is tired of seeing countless attacks on Asian Americans, which have only increased amid the coronavirus pandemic.
To help bring light to these crimes, battle anti-Asian hate and injustice, and empower young people to bring about change, he founded the nonprofit organization Asians United in the San Francisco Bay Area.
Hoang was born in Vietnam and immigrated to the United States at the age of eight. He has lived in San Francisco but called the San Joaquin Valley home when he started his higher education journey at UC Merced in 2016. Four years later, Hoang received his B.S. in management and business economics.
His time at UC Merced was full of change and self-discovery. Hoang admits he had a hard time making friends at first, but he decided to get involved in as many clubs and organizations as possible to make connections. He was part of the Economics and Marketing clubs and had the opportunity to hold leadership positions. Working with nonprofits in the Merced area was also important to him as an undergraduate student.
One of the greatest opportunities Hoang says he had on campus was holding a research position with economics Professor Justin Hicks. He was part of the Undergraduate Research Opportunities Center (UROC), as well as the Summer Undergraduate Research Fellowship (SURF). Hoang was planning on making research presentations at multiple conferences, but that plan was scrapped when the pandemic hit and forced the cancelation of in-person events and gatherings.
COVID-19 has affected everyone directly or indirectly. For Hoang, the pandemic forced him to start paying attention to what was happening to members of the Asian American and Pacific Islander community. In California, hate crimes against Asian Americans increased 107% in 2020 compared to the previous year, according to a report from the state attorney general's office.
Hoang hopes to change that with Asians United. The nonprofit organization, founded this year, boasts about 20 volunteers and includes four additional UC Merced alumni and a current student. The group created the Equip Our Elderly project, which distributed more than 100 sound alarms to members of the Asian American community. The loud alarms are meant to be used during an attack in hopes that passersby will call for help or come to their aid. After receiving the alarms, people reported feeling safer than before. The nonprofit also organized March For Our Elders in May to demand justice for the elderly and hate crime victims. It was also meant to celebrate the diversity of Asian American culture.
In a recent interview with UC Merced, Hoang discussed how the university helped shape him to create Asians United, what the future holds and also provided words of wisdom to his fellow Bobcats.
How did the idea come about to create this nonprofit organization?
The idea came about after I watched the video of Vicha Ratanapakdee, an 84-year-old grandfather, getting tackled onto the ground and passing away in the hospital. It shook me to my core because it happened in San Francisco, the city I call home. After that video, I knew I had to do something about it. So, I messaged some close friends about hosting a rally or march to spotlight the rise in anti-Asian hate in the Bay Area and across the country. I found out I was not the only one feeling this sense of injustice at what's happening against the elders in my community. One thing led to another, and we decided to create more of a structure and vehicle for change, rather than just a one-time event.
How did UC Merced prepare you to become the founder of Asians United?
UC Merced prepared me by giving me opportunities to enhance my networking and public speaking skills. Working with professors in the Department of Economics provided invaluable mentorship and networking opportunities as an undergraduate researcher and course reader. Being a UROC scholar pushed me out of my comfort zone to strengthen my public speaking skills by giving me a platform to present my research to a wide range of audiences.
What are some obstacles you encountered while working to make the platform a reality, and how did you overcome them?
One of the surprising obstacles was encountering pushback from some elders in our community when we were launching the pilot for the Equip Our Elderly project. This project is where we host situational-awareness and sound-alarm safety training for the elders in Chinatown. We partner with local nonprofits that can supply the elders to streamline the process. We overcame this situation by reminding ourselves of our mission and putting community over egos at the forefront of our ideas.
As you look ahead, what can the public expect from Asians United in the coming months and years?
In the coming months, the public can expect situational-awareness training to expand to other sites in Chinatown and outside of Chinatown. You can also expect Asians United to have chapters across the nation, including Los Angeles, Newark and New York City. Education is key. A goal is to work with lawmakers to have Asian American history taught in high schools as supplementary education and financial literacy taught to high schoolers in San Francisco as well. In the coming years, the public can expect mandating Asian American history to be taught in schools in California and in 48 other states in the U.S. (Illinois is in the final stages with the TEAACH Act (HB 376)).
What advice do you have for UC Merced students who may be thinking of taking a similar career path?
Start small and with the people around you. Have a mission and vision for what you want to accomplish; think of the mission being able to be accomplished in one to three years and vision in 10-30 years. Most likely, visions will live past your lifetime. Having pillars or values are a great way of generating ideas. You can volunteer at a nonprofit whose mission resonates with you in your local area. You can educate yourself on Asian American history, Hasan Minjah's show called "Patriot Act" has an episode called "Don't Ignore the Asian Vote in 2020" available on Netflix, YouTube and Facebook. Start somewhere because the longer you wait to start a project, the less likely you will actually start it.
The road to creating Asians United has not been an easy one, but that entrepreneurial spirit - which Bobcats carry with them even after Commencement - has undoubtedly helped in making this movement a reality. Monetary awards and donations assist with the cause as well. Recently, Asians United was awarded the Stand With Asians community fund of $25,000 to support current projects and jumpstart future ones. People who would like to donate to the nonprofit's fundraisers can do so online. Anyone interested in joining the organization in a variety of capacities can send a message on its Facebook page.