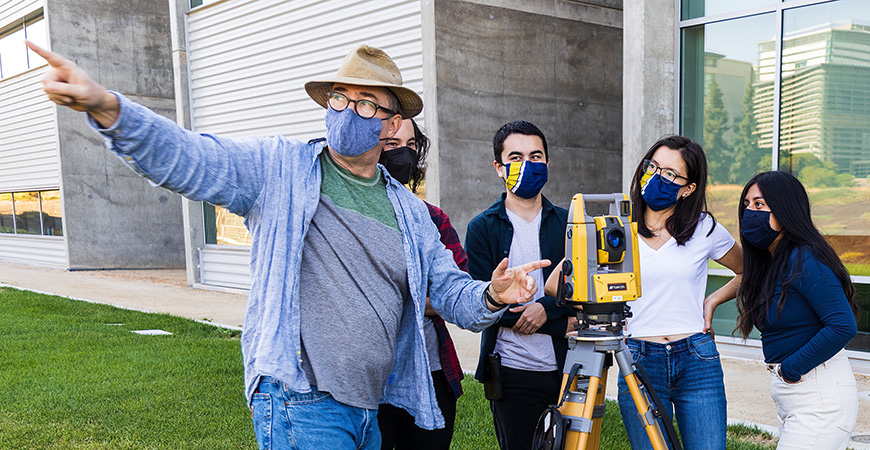 Civil engineering usually brings to mind bridges and skyscrapers, but at UC Merced the engineering program extends far beyond that.  
This fall, UC Merced is launching a new civil engineering major that will sit within the existing civil and environmental engineering major. The program is available to first-year students and will focus on modern civil engineering concepts with an emphasis on sustainability.
"We developed a forward-looking civil engineering program focused on students who want to be active players in building a sustainable future," said Thomas Harmon, professor of engineering and current department chair. "We're not just teaching how to design a building to make sure it carries a load. We're also teaching about the use of sustainable energy and building materials to reduce our impact on the environment. We're taking advantage of our LEED-certified buildings and infrastructure on campus as learning oppotunities."
To keep sustainability front and center, the civil engineering major courses will share three of its core courses with environmental engineering: hydrology, sustainable energy and environmental engineering. Newer requirements include geometrics, or modern surveying, spatial analysis and sustainable structures.
"At UC Merced, particularly in the School of Engineering, we are focused on sustainability," said Mark Matsumoto, dean of the School of Engineering. "Civil engineering is the first new undergraduate engineering major since fall 2006 — the year after the campus first opened — yet it is the oldest engineering discipline. Our goal for the civil engineering program is to train students with sustainability in mind when designing infrastructure for the futures such as transportation systems, water supply networks and smart buildings, among other things."
Eighty-five first-year students have already committed to the new major. This fall, Harmon will teach a one-unit course on the fundamentals of civil engineering and new Teaching Professor Siddaiah Yara will teach a surveying class in the spring, using cutting-edge gear provided by Topcon Positioning Systems.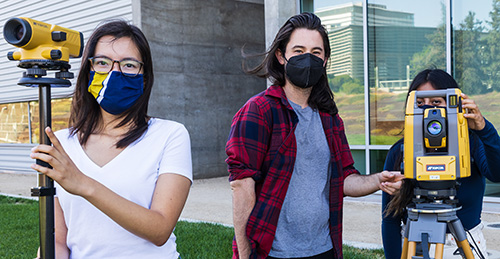 "The tools are state-of-the-art, such as laser scanners resembling what you might find on a Google Earth street view mapping vehicle," Harmon said.
The Topcon gear collects and processes huge amounts of data, and will enable students to learn to acquire and manage massive data sets. Classes and projects employing these real-world tools will better prepare them for the workforce.
Moving forward, the School of Engineering will incorporate more courses as students progress through the major.
"After two years, we'll be at full-speed with upper-division courses, too," Harmon said.
Senior Public Information Officer
Office:(209)585-6341