UC Merced understands and values the need to acknowledge the rich and diverse history of those who came before us and who are still with us today.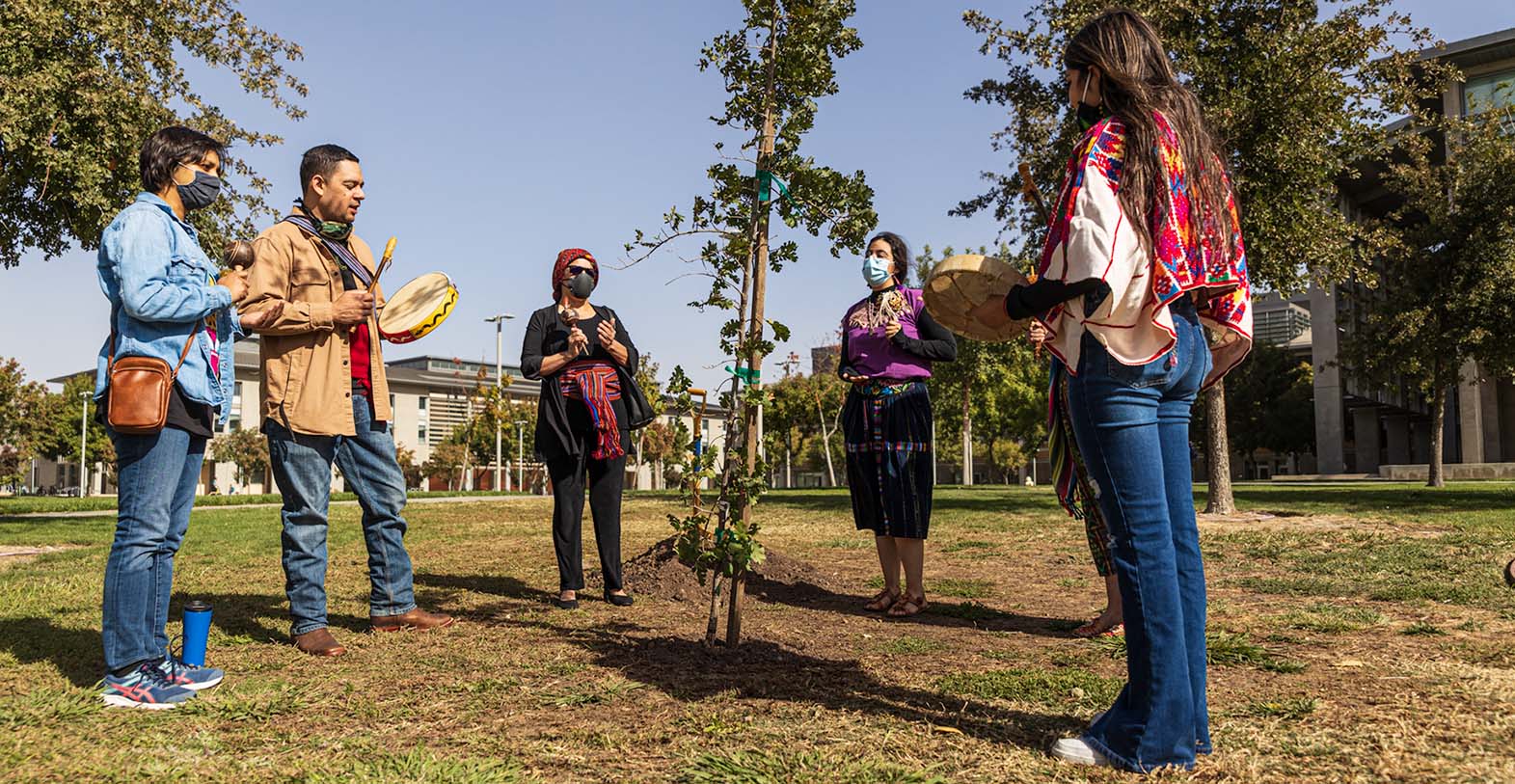 In honor of Indigenous Peoples' Day, including the local Yokuts and Miwuk who first inhabited or passed through the land where the campus is located, UC Merced held a small blessing event at the newly constructed Toloma Grove reflection area today (Oct. 11.) "Toloma" means "bobcat" in various dialects of Miwuk.
"Toloma Grove recognizes all Indigenous peoples, especially local groups," said Professor Teenie Matlock, UC Merced's vice provost and a founding faculty member. "The effort acknowledges the lives and cultures of indigenous peoples, past, present and future. Those of us with local indigenous ancestry are grateful for the recognition."
Indigenous Peoples' Day originated as an annual celebration in 1869. The day recognizes that Native people are the first inhabitants of the Americas, including the lands that later became the United States.
"UC Merced is proud to host this ceremony and blessing of our new Toloma Grove reflection and memorial area," said UC Merced Chancellor Juan Sànchez Muñoz. "We acknowledge that the Yokut and Miwuk peoples were the original stewards of this land and honor their legacy today and every day."
The Toloma Grove and Reflection area, just west of Science and Engineering building, features a grove of oak trees and an Indigenous Peoples' Monument. It is available to the campus community for visits and special events. As it evolves, visitors will see local plants used by local native peoples there.
"The effort will enable us to bridge with the community and open new doors to educating others on native practices, including plant use, basket weaving, drumming and other activities," said Management of Complex Systems Professor Spencer Castro.
To commemorate the Native people's history, the UC system launched an initiative called Native American Graves Protection and Repatriation Act (NAGPRA). This policy aims to increase and repatriate Native American and Native Hawaiian ancestral human remains and cultural items to the tribes' native Hawaiian organizations and lineal descendants. The policy is in its final stage of approval.
As a way to celebrate Native American Heritage Month in November, UC Merced will host the inaugural Toloma 5k Run on Saturday, Nov. 13, from 9-11 a.m. People can register for the race online.
"We hope that many students, faculty and staff will join us for the first annual Toloma Run and other Toloma activities we have planned for the coming years," said cognitive science Professor Lace Padilla. "We'd love to see you there."

Public Information Officer
Office: (209) 746-5137