More than 100 sociology undergraduate students got the opportunity to conduct research about social movements and civic engagement in Central America. A UC Merced professor, along with colleagues from universities in Honduras, Costa Rica and El Salvador, recently co-authored an article in the journal Social Problems to share the research findings.
Sociology Professor Paul Almeida teamed up with professors Eugenio Sosa, Allen Cordero Ulate and Ricardo Argueta for the study entitled "Protest Waves and Social Movement Fields: The Micro Foundations of Campaigning for Subaltern Political Parties." The survey data published in the paper was collected during May Day marches on May 1, 2014, in the three Central American countries of Honduras, Costa Rica and El Salvador.
Teams of 35 to 40 sociology undergraduate students from the National Autonomous University of Honduras (UNAH), the University of Costa Rica (UCR) and the University of El Salvador (UES) carried out the data collection after taking part in multiple survey training workshops led by the professors. Several UC Merced undergraduates were involved in organizing the surveys and transferring the hardcopy information into a database.
The student-based research teams implemented the surveys in the Central American capital cities of Tegucigalpa, San José and San Salvador. In all, nearly 1,500 May Day participants responded to the surveys (response rates ranged between 81 and 88 percent). The research design was based on the "Caught in the Act of Protest: Contextualizing Contestation," whereby social scientists in Europe, North America and Latin America have implemented a standardized survey in hundreds of street demonstrations in dozens of countries.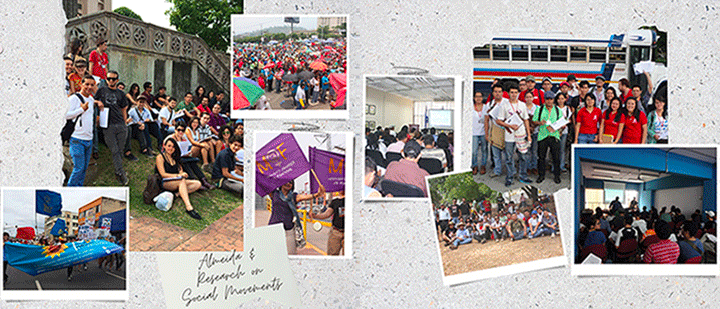 Almeida described the research project as a major undertaking.
"The project benefited from generous funding by the UC Pacific Rim Research Program," he said. "In a single study, we were able to provide training in survey research to a new generation of sociology students in multiple countries. These types of collaborations hopefully play a part in raising the international profile of our young research university."
The study found that people who participated in past social movement-type activities and civic organizations were more likely to volunteer and campaign for progressive political parties. The full text of the article is available online.