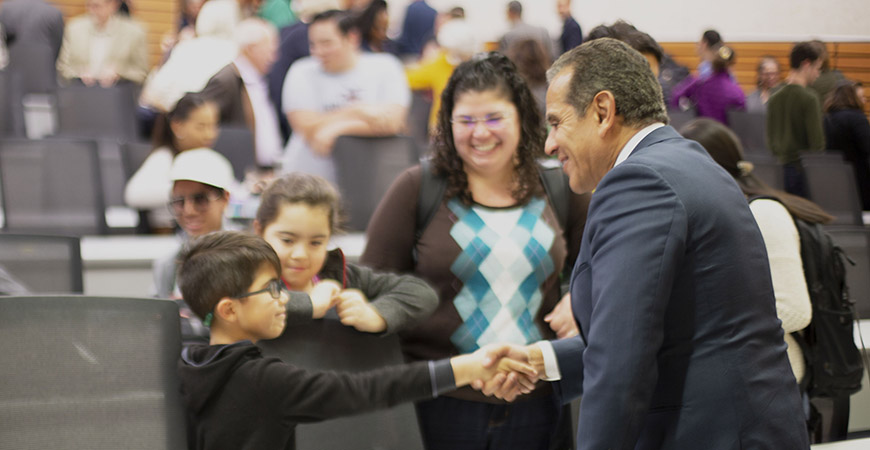 Antonio Villaraigosa is no stranger to partisanship. The former mayor of Los Angeles and a former state legislator visited UC Merced on Tuesday as part of the Chancellor's Speaker Series and spent more than an hour answering questions from the audience and from interim Chancellor Nathan Brostrom.
Villaraigosa said he learned from his time in the Legislature — which included two years as Democratic leader and two years as speaker — the pitfalls of that partisanship.
"When I started out, I was the fire-breathing dragon that Republicans hated," he said. "I excoriated Republicans, I demonized them, and I've learned a lot since then. I learned people are people. I think I left the speakership a very different man than when I came in.
 
"I think what's wrong with our body politic is nobody listens anymore."
Villaraigosa was the first Mexican American in more than 130 years to serve as mayor of Los Angeles. As speaker of the California State Assembly, he advocated for working families, the environment, health care and funding for public schools. Villaraigosa has also been featured in Time magazine as one of the country's 25 most influential Latinos.
He served in the Assembly from 1994 to 2000, and as mayor of Los Angeles from 2005 to 2013. Since leaving office, he's served as a member of President Barack Obama's Transition Economic Advisory Board and chairman of the 2012 Democratic National Convention.
At Tuesday's event, Villaraigosa discussed homelessness, mental health, national politics and more. A new member of the UC Merced Foundation Board of Trustees, Villaraigosa said he relates to much of the student population here, having experienced a difficult childhood. He credited his mother with instilling in him the importance of education. 
"She used to say you can be poor, but nobody can take away your education," he said.
Villaraigosa is the third in the 2019-20 Chancellor's Speaker Series, following President Bill Clinton's former deputy chief of staff Maria Echaveste and New York Times bestselling author Michael Lewis. Author/historian Douglas Brinkley will join Brostrom on stage Thursday, April 9.