Being a university student is stressful on its own. Students who have an uncertain immigration status have an additional layer of worry.
The nearly 600 UC Merced students with undocumented status are finding support not only from the university, but from one another.
The team at Services for Undocumented Students (SUS) supports Bobcats to achieve their academic, professional and personal goals while providing a safe and inclusive environment. It connects undocumented students through events, such as social gatherings and the UndocuBobcat Leadership Series, and provides free legal consultations to undocumented students and their immediate family members. Currently, most services are being offered virtually due to the pandemic.
Nayeli Sernas Hernandez, a fourth-year applied mathematics major from Los Angeles, is starting her third year on staff with SUS. She and fellow SUS staffers Elizabeth Meza Torres and Keyla Ruiz Ramirez worked together to build this year's four-week leadership program, which started Sept. 30, into an essential part of the UC Merced experience.
"For any student, if you want to succeed you need to seek out resources and a support system," she said. "With UndocuBLS, we aim for that and create an environment where UndocuBobcats can connect with other UndocuBobcats while they both go on the same journey of leadership development."
The program is similar to the broader Bobcat Leadership Series , open to all students, but tailored for the undocumented experience.
"The added bonus of participating in UndocuBLS is that you learn about yourself and who you are and how to use that to empower your own community," Sernas Hernandez said.
Meza Torres, a third-year political science and Spanish major, is putting to use her leadership skills as this year's president of Associated Students of UC Merced.
"To me, the UndocuBobcat Leadership Series was a unique experience because I was able to see, as other undocumented students felt, that they were in a safe environment where we could not only share our stories but grow as leaders," Meza Torres said. "We are all leaders in our own way but by engaging in leadership roles on our campus we have the ability to transform our stories into examples and show others that anything is possible if we set our minds to it."
Many, but not all, of UC Merced's undocumented students are protected by the program known as DACA, Deferred Action for Childhood Arrivals . Earlier this year, the University of California cheered when its case to uphold the program won the backing of the U.S. Supreme Court .
"Justice and the rule of law won the day," said then-UC President Janet Napolitano , who helped create DACA when she served as secretary of Homeland Security under President Barack Obama. "The Supreme Court's decision to uphold the University of California and the California attorney general's challenge against the Trump administration's capricious action is a victory for hundreds of thousands of young people who are making vital contributions to their families, schools, employers and the nation."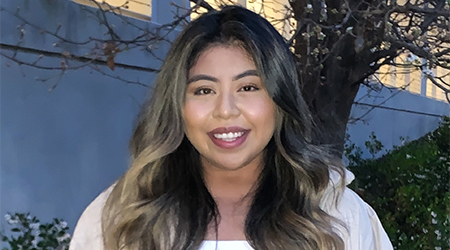 But the decision still leaves many feeling uncertain.
Ruiz Ramirez, a fourth-year psychology major from Los Angeles, said she has mixed feelings about the ruling.
"It should not be considered a solution as it does not address the entire immigrant population but only a small part of it," she said. "More steps need to be taken for every member of the immigrant population to obtain opportunities."
Meza Torres agreed a wider solution is needed.
"A nine-digit (Social Security) number shouldn't define human worth, and it's overwhelming to constantly have a target on your back because of your status," she said. "I am human, we are all human, and we shouldn't be treated any different."
As they look forward to a lasting immigration resolution, students such as Ruiz Ramirez are focusing on the opportunities made available through SUS and helping others to become advocates for the undocumented community.
"Our office, as a whole, is committed to being a resource for all our undocumented students. We take pride in building and providing opportunities as well as a safe space for all," she said.
"I am very fortunate to attend a very diverse campus where students from all races, backgrounds and ethnicities provide a sense of empowerment and community academically, personally and socially."