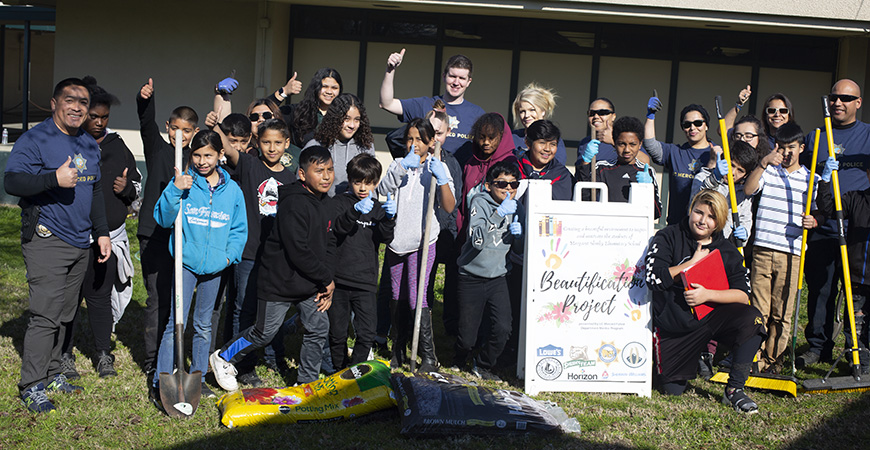 The UC Merced Police Department and its student partners ventured off campus and into the local community to work alongside elementary students to improve their campus through the inaugural Beautification Project.
The project is one part of the UC Merced Police Department's Trailblazers program, which affords officers and college students the chance to give back to the community by mentoring local students, providing positive role models and encouraging the pursuit of higher education. The mentorship program started in 2006.
Throughout the year, UC Merced Trailblazers spend an average of two to three hours a week with the elementary students, said Maria Ramirez, a junior management and business economics major from Berkeley. Gathering at an elementary school to help enhance the campus is one way to build bonds between Bobcats and the younger students.
The Beautification Project took place Feb. 7 at Margaret Sheehy Elementary School. UC Merced police officers and students joined the Sheehy students to clean the grounds and landscape the courtyard by planting flowers, adding woodchips and sweeping up debris.
"It's a pleasure for our officers to meet with local students and work on this beautification project," said UC Merced Chief of Police Chou Her. "The end result looked great and it's an opportunity for our officers, student mentors and local students to connect while doing something positive together."
The beautification project allows elementary students to take ownership of their campus by stepping outside the classroom to get their hands dirty in the garden, all while collaborating with their mentors. The project was made possible through the contributions of sponsors, including Lowe's, Sherwin-Williams, Horizon Distributors landscape company, Insidelines design company and the Associated Students of UC Merced (ASUCM).
"This project is an ideal opportunity for us to come together with local kids for a good cause," said UC Merced Police Sgt. Kari Gomes. "It's always fun to touch base with students in our local community, and to be able to also enhance their campus alongside them is great. It's a group effort and everyone feels good about it when it's done."