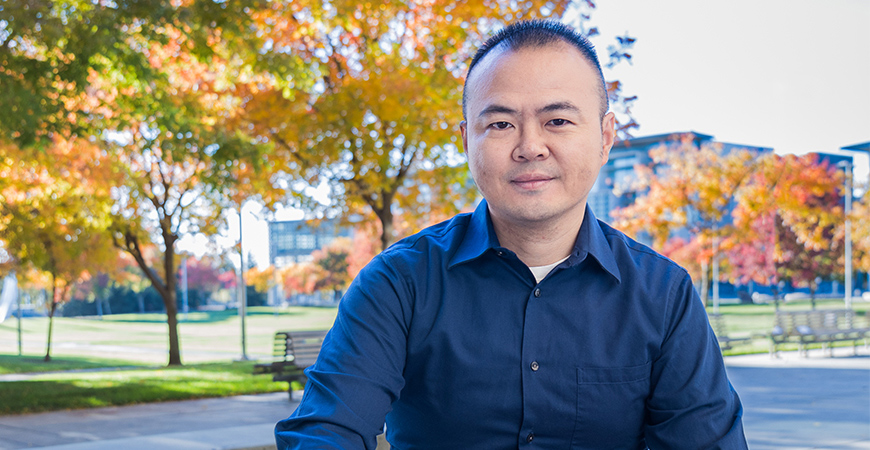 Physics Professor Bin Liu has received a CAREER award for his research into a new micromanipulation technique to virtually hold freely moving microorganisms, essentially creating a "bacterial treadmill" to enable biological and medical studies of microorganisms in their natural state.
He is the 24th researcher from UC Merced and the fifth from the Department of Physics to win this recognition from the National Science Foundation.
CAREER awards are among the NSF's most prestigious awards. They are given through the Faculty Early Career Development Program to recognize untenured faculty members as teacher-scholars. Early-career faculty members are selected based on three factors: the strength of their research proposals; their potential to serve as academic role models in research and education; and their leadership in their field and organizations
Liu will receive $508,296 over the next five years for his project "Symmetry-Based Microfluidics and Perturbation-Free Micromanipulations of Swimming Microorganisms." The grant is awarded through the Fluid Dynamics unit of the NSF's Division of Chemical, Bioengineering, Environmental and Transport.
Liu studies motion and transport in microorganisms, as well as origami-inspired metamaterials that can be folded into interesting and functional shapes. Bacteria often live in complex fluid environments, and are excellent runners, moving up to 50 body lengths in one second, Liu said. It's critical to understand how these microorganisms overcome or make use of the complex environments around them during many biological processes, especially because it directly concerns human health.
With his lab's newly developed 3-D tracking microscope, Liu and his students can correlate the complicated motion of every individual microorganism to its unique structure and its encountered environments.
"We aim to be able to control the behaviors of microorganisms by alternating their structure or adjusting the mechanical properties of their living environments," he said.
That's where microfluidics — a powerful means of confining and transporting microorganisms — comes in. The full potential of microfluidic devices for manipulation has yet to be realized, and this project will explore the fundamental principles that govern structured flows relevant to micromanipulations. The "bacterial treadmill" will allow the researchers to study the microorganisms in their natural states, free of force or other undesired perturbations.
Each CAREER award proposal includes an educational outreach component, and Liu said his project will bring scientific studies to the classroom through a "Virtual Imaging Lab," as well as hands-on experiences of microfluidics for K-12 students through a "Kirigami-Origami Microfluidics" tutorial.
"The NSF CAREER award is a prestigious honor and a recognition of the strength of Bin Liu's research program and educational efforts," Department of Physics Chair Professor Ajay Gopinathan said. "We are proud to be able to recruit and support outstanding scientists of his caliber in the physics department."
Liu has been with UC Merced since January 2015, when he started his academic career. He said he is thankful for the support he has received from colleagues and mentors, as well as for his students, and is honored by the award.
"It is a reward for the excellent work of my students, and a privilege to broaden my horizons on the symmetry-based microfluidics that I started to pursue after joining UC Merced," he said. "It is very encouraging. I am very lucky to be part of this team."

Senior Writer and Public Information Representative
Office: (209) 228-4406
Mobile: (209) 201-6255