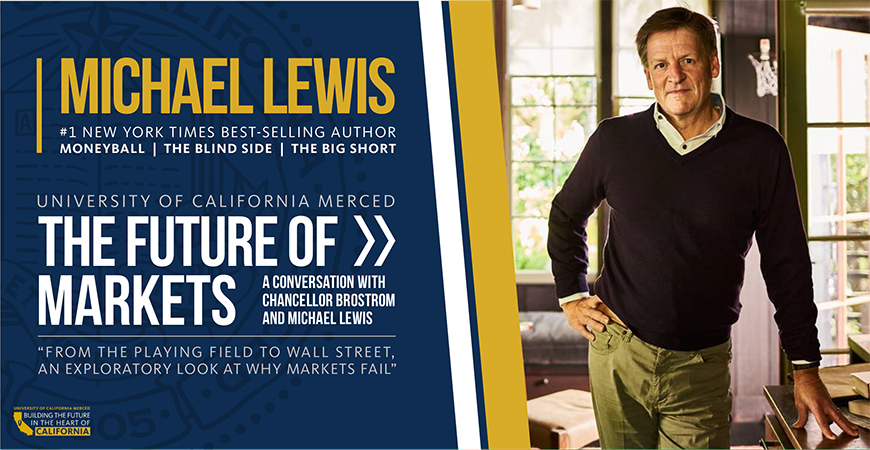 New York Times best-selling author Michael Lewis will visit the UC Merced campus for a conversation with interim Chancellor Nathan Brostrom on the future of economic markets.
While some authors achieve the honor of being New York Times best-sellers, not many can say their books have inspired Academy Award-nominated films – thrice. Known to immerse himself in the lives of the people and industries he covers, Lewis counts three best-selling books turned Oscar-worthy films among his accomplishments: "Moneyball," "The Blind Side" and "The Big Short."
The conversation between Lewis and Brostrom will take place 5-6 p.m. on Jan. 31 in the Lakireddy Auditorium. The community is invited to attend, and admission is free. Complimentary parking will be available in the North Bowl Parking Lot.
"Moneyball" chronicles the story of the Oakland A's general manager, who reinvents his team on a tight budget by foregoing baseball scouts and instead selecting players by their on-base percentage. "The Blind Side" is a story of transformation for an African American foster youth who, with a new guardian family and loving support, goes on to be a 2009 first-round NFL draft pick. And "The Big Short" describes the lead-up to the 2008 economic collapse, from which a handful of bankers profited, having predicted the fall.
"Michael's work is not only fantastic to read, but also offers new and thought-provoking insights into the world in which we live," Brostrom said. "I am pleased he will be joining us on campus to discuss his most recent work and the future of our economy. I know this will be a conversation that our students and community members will find rewarding."
Lewis' most recent best-seller is "The Fifth Risk," which details the totality of the United States government's responsibility for its citizens, including critical resources such as food, drugs, severe weather prediction and anti-terrorism efforts. In the book, Lewis shows not only the importance of these resources, but also the detrimental consequences to society if they are poorly managed.
Lewis is also a columnist for Bloomberg Opinion and a contributing writer for Audible. His articles have also appeared in Vanity Fair, The New York Times Magazine, The New Yorker, Gourmet, Slate, Sports Illustrated, Foreign Affairs and Poetry Magazine.
Registration is available for the event online.
Senior Public Information Officer
Office:(209)585-6341