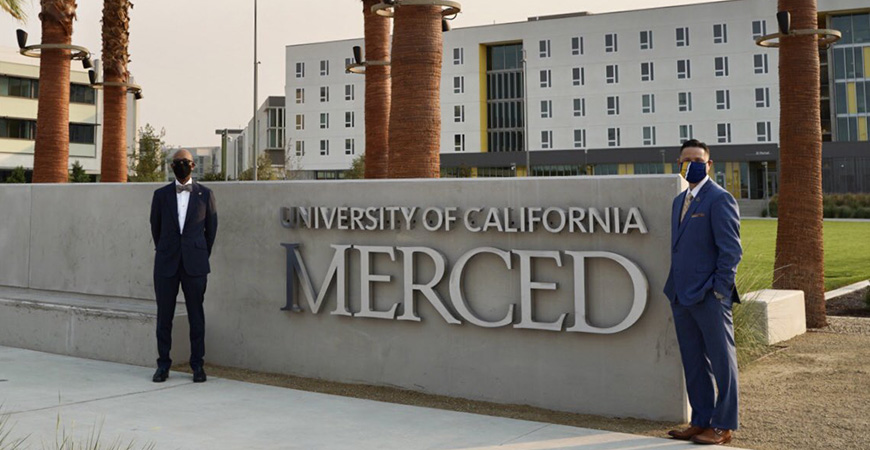 In just 15 years since its founding, UC President Michael V. Drake, M.D., said UC Merced has come to embody the best of what the University of California has to offer when it comes to research excellence, social mobility and diversity.  
Drake chose UC Merced as the first campus he would visit after taking over as the UC's 21st president in August, succeeding President Janet Napolitano. The president spent the day with Chancellor Juan Sánchez Muñoz, meeting with faculty, students and staff in physically distanced gatherings on campus. 
In a Q&A with Muñoz, broadcast live on YouTube, Drake emphasized that while the pandemic has created economic difficulties, it's important to remember the kind of investment that was needed for the UC to contribute to Nobel Prizes in three different fields this year alone. 
Drake noted the university's fiscal challenges while trying to ensure research operations continue and students get the educational experiences they expect from the most respected public university system in the world. 
"You don't cut your way to excellence," Drake said, noting that Gov. Gavin Newsom and the state Legislature have been strong supporters of higher education over the years.
It was not the first visit to UC Merced for Drake, a longtime UCSF professor and former chancellor of UC Irvine who was part of a faculty group planning the Merced campus before it opened; he was present for the campus's groundbreaking, its first commencement and its accreditation review.   
Muñoz asked him about better aligning the university's research mission and its commitment to build social mobility for California's young people. 
"UC Merced is a reflection of those commitments, those principles, those practices," Drake said. "It is a national leader in the number of first-generation students, students of color and those from underrepresented backgrounds, the percentage of Pell-eligible students, and the success and graduation rates of those students. UC Merced stands alone as the national leader in combining these aspects that we want to continue to elevate."
You have to create that future, and you have to do that with principles and with values-based decision making. You have to know what's important to you and why, and apply those things to your life and the way you do your work, and try to live up to those values every day.
During his time in Merced, Drake also met with Merced Mayor Mike Murphy and former UC Regent Fred Ruiz, who now serves as a trustee of the UC Merced Foundation. 
Muñoz said the new president received a taste of what he has seen himself in his first few months on campus. 
"There's such excitement and enthusiasm," Muñoz said, "not just for what UC Merced is, but what it will yet become."  
Drake said the UC will continue exploring ways to narrow the digital divide and to use technology to democratize education, ensuring that all students have access to the tools they need to succeed, while focusing on shared values such as respect, curiosity, integrity, empathy and fun. 
"We want to be leaders," he said. "We want to be on the cutting edge. We want to move things forward. The path has not been created yet. You have to create that future, and you have to do that with principles and with values-based decision making. You have to know what's important to you and why, and apply those things to your life and the way you do your work, and try to live up to those values every day."