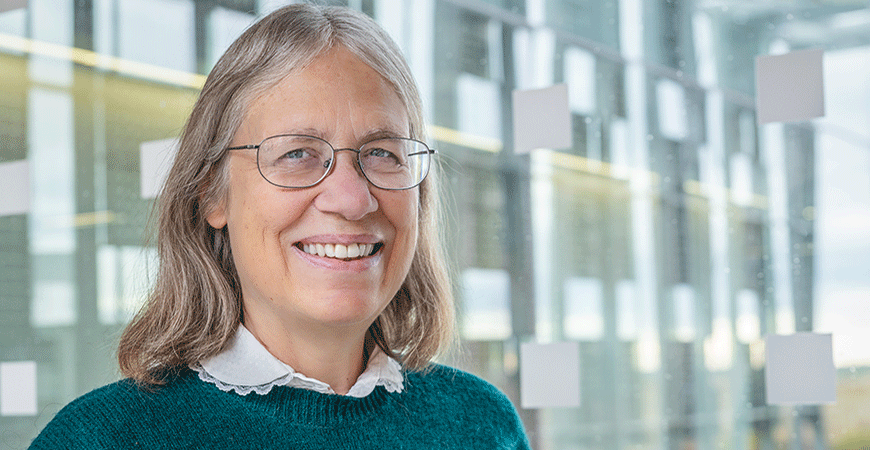 Professor Sarah Kurtz has become the first UC Merced faculty member to be elected to the National Academy of Engineering (NAE) in recognition of her contributions to the development of gallium indium phosphide/gallium arsenide photovoltaic cells and for her leadership in solar-cell reliability and quality.
"The membership is a special recognition that I deeply appreciate," Kurtz said. "It is considered to be one of the highest honors that can be bestowed on an engineer. I expect there will be many more NAE members from UC Merced."
Kurtz's research involves understanding and improving photovoltaic systems; understanding trends in the growth of renewable energy use; and researching any impediments to that continued growth.
"This is a fabulous first in the School of Engineering. We were all extremely pleased to hear the news about Professor Sarah Kurtz's membership to the NAE," Dean Mark Matsumoto said. "Sarah's membership is well deserved for her long and numerous contributions to solar energy, both for applications here on Earth but also for space exploration. We hope this recognition will lead to greater appreciation by our peers regarding the excellence of our faculty, not only in engineering but across the UC Merced campus."
Before joining UC Merced in 2017, Kurtz spent more than 30 years at the National Renewable Energy Laboratory in Golden, Colorado. Now, she's excited to support California's energy revolution at UC Merced.
"This is great recognition of Sarah's pioneering research and indefatigable leadership in a field that is of paramount importance to the long-term health of our planet," said Professor Christopher Viney, chair of the Department of Materials Science and Engineering . "It also cements the reputation of the department, the School of Engineering and UC Merced for offering research opportunities led by world-class faculty."
"The beautiful thing about renewable energy is that the more we use it, the cheaper it gets, paving a path to prosperity to the whole world. My goal has always been to build a better world, and I look forward to working with many people at UC Merced to make that a reality."
Kurtz was recruited by founding faculty member Professor Roland Winston, who heads UC Solar, works with Kurtz and has a great deal of respect for her and her work. This milestone honor for Kurtz comes as no surprise to him.
"Sarah's work is important, not just for Earth, but beyond. Her multi-junction solar cells have been used on many interplanetary missions, including some of the Mars rovers," Winston said. "It's great to see her recognized as an NAE member."
Kurtz was previously recognized with the prestigious Dan David Prize, which recognizes and encourages innovative and interdisciplinary research. The prize aims to foster universal values of excellence, creativity, justice, democracy and progress while promoting scientific, technological and humanistic achievements to improve the world.
Kurtz will attend the NAE's formal induction ceremony, which takes place in Washington, D.C., in October. She said she has been overwhelmed by notes of congratulations from her colleagues.
"I've only been here for two years, and I am amazed how welcoming and supportive the faculty and staff have been," she said. "I have dedicated my life to solar research and to see solar energy become a foundation of how we power the world. The beautiful thing about renewable energy is that the more we use it, the cheaper it gets, paving a path to prosperity to the whole world. My goal has always been to build a better world, and I look forward to working with many people at UC Merced to make that a reality."

Senior Writer and Public Information Representative
Office: (209) 228-4406
Mobile: (209) 201-6255