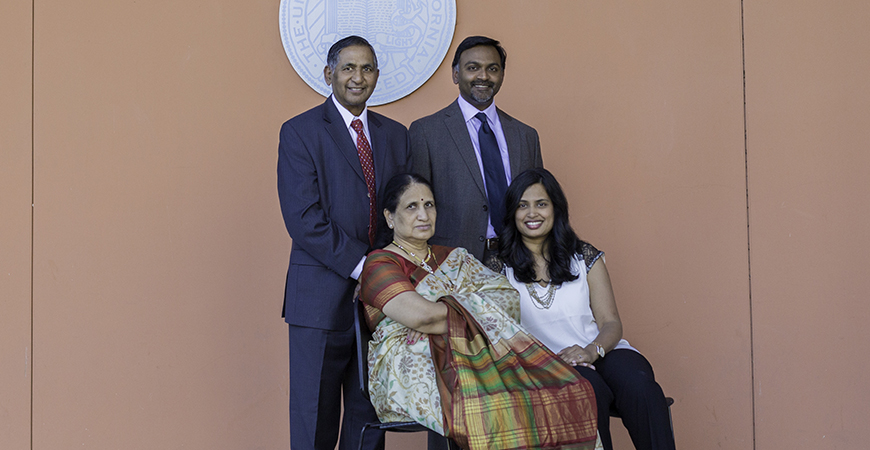 Merced Mayor Michael Murphy and cardiologist Hanimireddy Lakireddy will be awarded the prestigious UC Merced Chancellor's Medal.
Established in 2005, the Chancellor's Medal is the highest honor of accomplishment given to an individual by the university. It is an award reserved for those who epitomize exemplary engagement, an unwavering commitment, and a transformative and lasting impact on UC Merced. Past recipients include Michelle Obama, Congressman Dennis Cardoza, former UC Regents Leo Kolligian and Fred Ruiz, local community and business leaders Art Kamangar and Calvin Bright, and other influential individuals.
"One of the great joys of being at UC Merced has been the opportunity to meet amazing people like Dr. Lakireddy and Mayor Murphy, who have been instrumental in the growth of the university and whose goodwill has meant so much to our students and our successes," said interim chancellor Nathan Brostrom. "Their support has honored UC Merced, and it is fitting and proper that our community honors each of them with a Chancellor's Medal."
Originally from a remote village in British-controlled India, Lakireddy grew up without so much as running water. He credits education for his drive to learn and grow, eventually arriving in the United States in 1978.
"When I attended school as a young boy in India, we had no electricity, none of today's modern-day conveniences," Lakireddy told UC Merced back in 2002. "Yet thanks to my schooling and to higher education, I was able to make something of myself. Therefore, I now feel an obligation to show my gratitude for the opportunities that education has afforded me by giving back to this educational organization and giving back to my community."
After studying to become a doctor in internal medicine and cardiology, Lakireddy eventually opened his practice in Merced, where he has since become a patron to many local educational institutions.
In 2002, Dr. Lakireddy made a generous $1 million donation towards what would become the eponymous Dr. Lakireddy Auditorium. The spacious venue anchors Classroom and Office Building 1, one of the first academic buildings constructed on campus. Lakireddy's contribution enabled the university to enhance the auditorium with state-of-the-art audio and visual equipment, a larger stage and backstage rooms. Since its opening in 2006, thousands of students have studied and learned in what is one of the campus' largest lecture halls.
Off campus, UC Merced has had a champion in the city's two-term mayor, Mike Murphy.
Murphy has been a staunch supporter of UC Merced since he was elected to the city council in 2011, hailing UC Merced as a promising institution of higher education and a positive addition spurring the Merced community forward.
In 2018, Murphy traveled to Los Angeles for one of several trips to accompany UC Merced senior leadership at the UC Board of Regents meeting to tout the positive influence the institution has had on the community.
"Merced is a city on the rise and UC Merced's expansion is a key reason why," he told the regents. "The creation of the Downtown Campus Center has brought a renaissance to downtown Merced, with renovation projects of old structures showcasing the economic development. With the first phase of the Merced 2020 Project now in place, a buzz has filled the city with anticipation for what is to come in the next few years."
Murphy promoted local economic development by fostering a collaboration between the City and UC Merced to lease the city-owned Parcade to UC Merced to house its Venture Lab and UC Merced Small Business Development Center Network office. He also served on the dean's advisory council for UC Merced's School of Engineering.
Murphy grew up in Merced and later earned a bachelor's degree from Brigham Young University and a law degree from Georgetown University. After practicing law in Silicon Valley, Murphy and his wife chose to return to Merced to raise their family where he also opened a downtown practice.
The Chancellor will present Murphy and Lakireddy with their Chancellor's Medals at a ceremony once current COVID-19 restrictions are lifted.
Here is a full list of former recipients of the Chancellor's Medals:
2005 — Robert Carpenter, John Garamendi, Leo Kolligian and Bettylou George
2008 — Kathleen Crookham
2009 — Robert Gallo, Marie Gallo, Carol Tomlinson-Keasey, Michelle Obama, Dennis Cardoza and Yosemite National Park
2010 — Frederick Ruiz and Odessa Johnson
2011 — Michael Gallo and Lloyd Dean
2012 — Cruz Bustamante
2019 — Dr. Art Kamangar and Calvin E. Bright
Senior Public Information Officer
Office:(209)585-6341