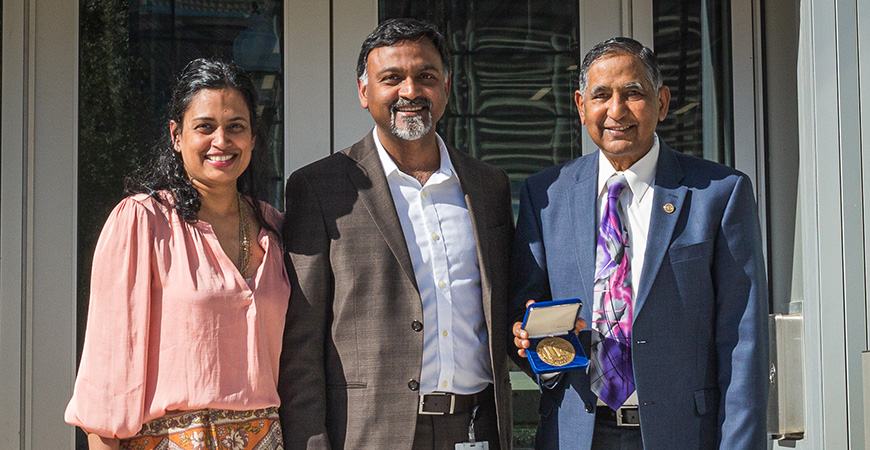 Dr. Vikram and Priya Lakireddy, a Merced family deeply engaged in both local and international philanthropy, have made the first significant gift in support of UC Merced's landmark Merced 2020 Project.
The generous donation from the Lakireddys will name the state-of-the-art central hub of the new UC Merced Conference Center. The Dr. Vikram and Priya Lakireddy Grand Ballroom will host scholarly conferences and seminars, student-focused events and will be a flagship location for high-level events and speakers.
Dr. Lakireddy, a Merced cardiologist and a trustee of the UC Merced Foundation, and Priya Lakireddy, a contract administrator in the Division of Finance and Administration and past president of the UC Merced Staff Assembly, are longtime supporters of and advocates for the university.
"Vikram and I feel strongly about supporting the Merced community," said Priya Lakireddy. "We are honored that the grand ballroom will bear our names as it is an important step forward for the campus and will strengthen the relationship between UC Merced and the entire Central Valley region."
Vikram Lakireddy continued, "The university is very important to us as a family — we've been involved in the campus since the beginning. We hope that others will be inspired to support UC Merced and help the campus continue to transform lives." 
 "The commitment of the Lakireddy family to UC Merced is inspiring and has truly helped grow the university's reputation and presence in the Valley," said Chancellor Juan Sánchez Muñoz. "Vikram and Priya have made it a priority to continue to improve their community through their gifts of time, thoughtful counsel, and selfless generosity."
Vikram's father Dr. Hanimireddy Lakireddy, Merced's first cardiologist and a member of the UC Merced Foundation Board of Trustees since 2006, was recently honored with UC Merced's prestigious Chancellor's Medal. Dr. Lakireddy so strongly believed in the positive impact that UC Merced would make on the region that before the campus opened its doors, he and his family endowed the campus' largest lecture hall, the Dr. Lakireddy Auditorium. The site of the first UC Merced graduation ceremony, the Dr. Lakireddy Auditorium is one of the largest lecture halls on campus and continues to serve as an important academic and entertainment hub for the university.
The Lakireddy family moved to Merced in 1984 and have been supporters of UC Merced, Merced College, and Merced high schools, among numerous other community organizations and projects. Their philanthropy is also one of international impact — they have built schools, roads and wells in Andhra Pradesh, the Indian state where Dr. Hanimireddy Lakireddy was raised.