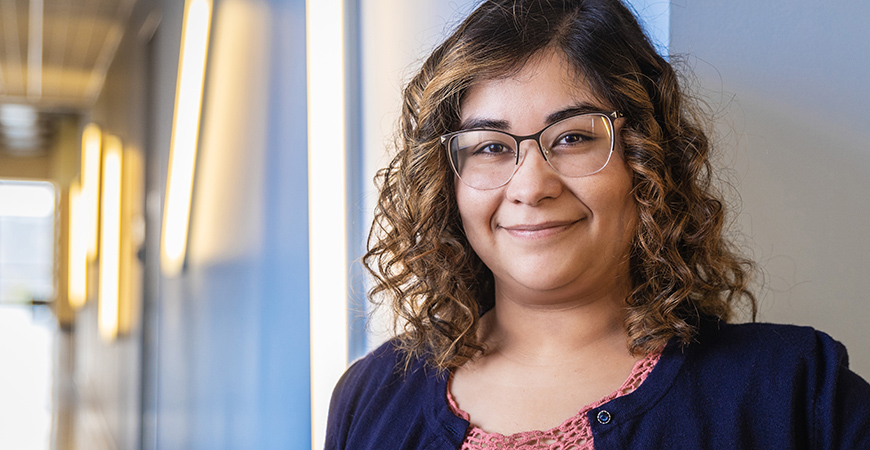 From a young age, Maria Ramirez Loyola has been fascinated by the trait of resiliency.
Her mother escaped an abusive marriage and fled from Mexico to the U.S. with two small children in tow. Ramirez Loyola witnessed first-hand the stress and sleepless nights her mother endured to make ends meet and support her and her younger brother.
"She was poor, uneducated and spoke almost no English, so she didn't know how to take refuge legally," Ramirez Loyola said. "Unfortunately, this resulted in a stigmatized, unlawful immigration status which made it extremely difficult for her to find a job so she could take care of us."
Her mother's ability to successfully adapt and recover from adverse situations served as the catalyst for Ramirez Loyola's research interests.
"Despite all of the challenges that the universe threw at my mom, she always seemed to bounce back no matter how hard things got," said the Psychological Sciences Ph.D. student who grew up in Perris. "This is one of the main reasons I'm interested in understanding resiliency processes in the associations between chronic stress and health."
Ramirez Loyola, a first-generation student and DACA recipient, earned a bachelor's degree in psychology at UC Riverside in 2016 and a master's degree in psychological sciences from UC Merced in 2018.
Her doctoral research broadly focuses on understanding resilience processes in the daily lives of young adults.
Her advisor, Professor Deborah Wiebe, said one area of Ramirez Loyola's research has focused on the role of positive and negative emotions in how young adults manage the chronic stress of living with type 1 diabetes.
"Her master's thesis demonstrated that being able to regulate positive emotions in daily life is an important part of withstanding the ongoing stress and hassle of managing this serious disease," Wiebe said. "Maria's work is making an important contribution to the field. For example, she was invited to give an oral presentation of her thesis research at the national meetings of the Society of Behavioral Medicine, and she received meritorious abstract awards from the society at large and from the Diabetes Special Interest Group."
Another branch of Ramirez Loyola's research focuses on understanding how ethnic/racial identity may function as a source of resilience in the associations between perceived ethnic/racial discrimination — a chronic psychosocial stressor — and the health of Latino young adults.
"I think of resilience as our ability to bend but not break in the face of stress. It's something that can help us survive and even thrive when we face adverse or stressful situations in our everyday lives," she said. "I'm trying to understand why some people are better equipped than others to handle stressful experiences that may undermine their health and well-being during this critical developmental period."
After the 2016 presidential election, Ramirez Loyola read reports and heard anecdotes that suggested there was an increase in ethnic/racial discrimination experiences among Latinos in particular.
"Experiencing discrimination can potentially be really stressful and bad for one's health. So, I became interested in identifying and understanding potential resiliency processes among Latino youth that can help them cope effectively," she said. "It is a timely issue and something I'm personally concerned about. It is great way to bridge what I was already doing with what is happening right now in the world."
I'm trying to understand why some people are better equipped than others to handle stressful experiences that may undermine their health and well-being during this critical developmental period.
In addition to her research, Ramirez Loyola is actively involved in multiple leadership and service activities on campus such as serving as the climate, diversity and equity officer for the campus's Graduate Student Association (GSA).
"Given my background, I understand the vital importance of having successful diversity, equity and inclusion related initiatives," she said. "There are a lot of resources here but not everybody knows about them."
One initiative the GSA is focused on this year is facilitating graduate student access to mental health resources on campus.
Ramirez Loyola also mentors undocumented undergraduate students in the UndocuScholars Academy.
This interactive, seven-week seminar series aims to empower undocumented students by providing career development skills as well as job and graduate/professional school preparation. Ramirez Loyola collaborates with the Center for Career and Professional Advancement — which manages the program — Services for Undocumented Students, and other campus units. She and guest speakers help students explore topics including when to start doing research, how to apply for graduate school, how to find a job and how to interview.
"While I can't change a lot of things, I can at least show them how I did it," Ramirez Loyola said. "I think it's one thing to help undergrads from marginalized and underrepresented groups go on to grad school, but it's another thing to make sure they have the skills and tools they need to help them succeed when they are there."
Senior Public Information Representative
Office: (209) 228-4203
Mobile: (209) 628-8263