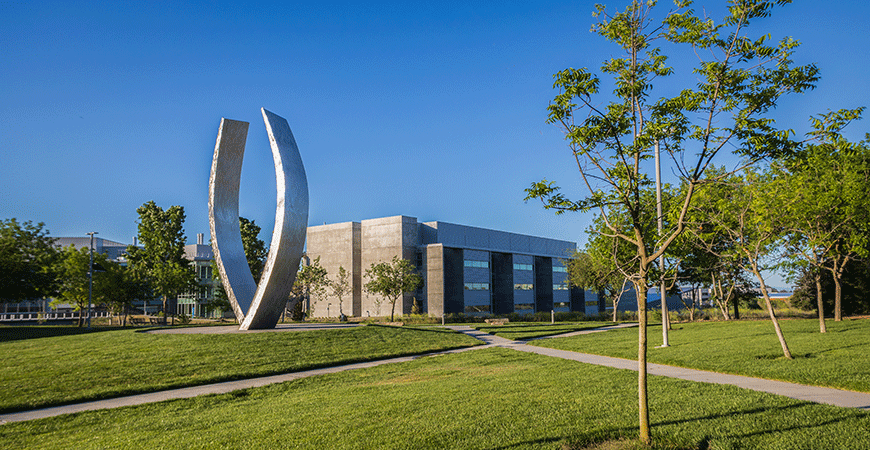 Juan Sánchez Muñoz won't begin his tenure as UC Merced's fourth chancellor until July 1, but leaders in the University of California and across campus are already expressing excitement and optimism about his selection.
Muñoz, whose appointment was approved by the UC Board of Regents on May 24, takes the helm at a fascinating time for the University of California's newest campus. This fall, UC Merced will celebrate the opening of the third and final phase of the Merced 2020 Project, which has doubled the size of campus over the past three years. Add to that the uncertainty around the COVID-19 pandemic and how it might impact the campus in fall 2020 and beyond, and Muñoz finds himself walking into a truly unprecedented situation for a new chancellor.
In his acceptance speech to the Regents, Muñoz said he hopes to lead UC Merced into the next chapter of its rapid development.
"While UC Merced may be the youngest of the 10 UC campuses, its vigorous research ambitions, commitment to inclusive excellence and dynamic alumni have earned its place alongside the nine other campuses of the University of California system," Muñoz said. "There is little doubt that UC Merced will, in short order, join the ranks of national R1 universities, and I hope to be the chancellor who informs this board of that accomplishment."
Muñoz praised the work of previous UC Merced chancellors, including Chancellor Dorothy Leland and interim Chancellor Nathan Brostrom, who worked hard to make the Merced 2020 Project a reality. Brostrom also earned praise from UC President Janet Napolitano and several Regents for his year of service to the campus."I would like to recognize Nathan and his leadership of the incredible University of California, Merced," said Lt. Gov. Eleni Kounalakis. "The person-to-person work he did on that campus, being so accessible to students — I heard from so many about how much they appreciated (Nathan's) accessibility and enthusiasm for the university and for their education."
Dr. Muñoz's accomplishments are a testament to the power and opportunities created by public higher education. I am certain he will build on his valuable experiences to lead Merced, UC's newest campus, so that it continues to grow and thrive.
Here are some more reactions to Muñoz's appointment:
"Dr. Muñoz's experience and qualifications alone make him an outstanding choice to lead UC Merced. Add to that his passion for ensuring the success of all students, especially public school students from underrepresented and underserved communities, and it is clear he is the perfect match for UC Merced as the campus moves forward on its impressive journey."
John A. Pérez
Chair, UC Board of Regents
---
"I am optimistic and excited about the future of this campus."
Nathan Brostrom
Interim Chancellor, UC Merced
---
"I want to congratulate and welcome Dr. Muñoz as UC Merced's newest chancellor. UC Merced has already established itself as a very respected university in California and the nation. Its future is bright and Dr. Muñoz, with the faculty, is only going to make it better. He is the leader this university needs as it continues to build upon the remarkable success it has achieved in only a few short years. Go Bobcats!"
Rep. Jim Costa (D-Fresno)
---
"I welcome Dr. Juan Sánchez Muñoz to UC Merced as its new chancellor and look forward to seeing him guide the campus's continued growth and impact on the Central Valley and the state. UC Merced plays a strategic role in the Central Valley's economic future, and leaders like Dr. Muñoz will be key to realizing that potential."
Sen. Anna Caballero (D-Salinas)
---
"UC Merced deserves strong and consistent leadership, and I am confident that is exactly what we are getting with Chancellor Muñoz. I look forward to working with him as the campus continues to grow and as we take the next step toward establishing a UC medical school in the Valley."
Assembly Member Adam Gray (D-Merced)
---
"I would like to congratulate Dr. Muñoz on his new role as the chancellor of UC Merced, making him only the third Latino chancellor in the UC system's history. Coming from the University of Houston-Downtown, Dr. Muñoz has a track record of strategic, community-based leadership which I think will be of great service to UC Merced. I look forward to working with him in this new capacity."
Assembly Member Jose Medina (D-Riverside)
Chair, Assembly Higher Education Committee
---
"The growth of the city of Merced depends in large part on the growth and success of UC Merced. It's great to see someone with California roots and an understanding of the needs and aspirations of the San Joaquin Valley take the helm at UC Merced. I look forward to a deepening of our partnership with the campus under Chancellor Muñoz's leadership."
Mike Murphy
Mayor of Merced
---
"Dr. Juan Sánchez Muñoz is someone I think the UC Merced and greater Merced communities will welcome with open arms and enjoy working with. Not only is he originally from the Central Valley and a graduate of a UC, but he is also a first-generation graduate and that is something our students can relate to and take pride in. With all that being said, he does have a lot of work to do. As we continue to address the consequences of COVID-19 on our campus, his leadership and stewardship of UC Merced will be crucial now more than ever. But I am confident that he will do a phenomenal job while centering student success. As a graduate of the Class of 2020, I couldn't think of a better way to end my college career, knowing that I took part in selecting someone like Dr. Muñoz to join our UC Merced family."
Erik Flores
President, Associated Students of UC Merced
---
"Dr. Juan Sánchez Muñoz is an excellent fit as a new chancellor for UC Merced. He appreciates the unique potential of UC Merced and shares our ambitious vision for the future of our campus. He has an impressive record in advancing diversity and equity in higher education, community engagement, campus expansion and fundraising — all of this can help him lead our campus into the next stage of growth. Graduate students look forward to working with Dr. Muñoz to address significant challenges, including a need for increased funding for internal fellowships and travel, serving our undocumented graduate students, and addressing the physical and mental health of graduate students."
Larisa Gavrilova
Climate, Diversity and Equity Officer, Graduate Student Association
---
"UC Merced has reached a pivotal moment in its history, and Dr. Muñoz is the leader this campus needs as we complete the Merced 2020 Project and move toward Carnegie R1 status. I look forward to working with him to spread the word about the great work happening at UC Merced, and to drive much-needed philanthropic support for the university and its mission."
Denise Watkins
Chair, UC Merced Foundation Board
---
"In its first 15 years, UC Merced has been graced with truly dynamic, determined leadership that has carried the campus to great heights and helped it persevere through a number of challenges. I believe Dr. Muñoz will not only continue this tradition, but bring a fresh perspective and new ideas to help lead us into the future."
Monya Lane
Trustee, UC Merced Foundation Board
Member, Search Advisory Committee
---
"It was clear throughout the search process that Dr. Muñoz is someone who cares about students and their success, first and foremost. The culture at UC Merced prioritizes community building and support for one another, especially among students. I can't wait for the campus community to meet and get to know our new chancellor."
Brooklynn Pham '09
Member, UC Merced Alumni Association Board
Member, Search Advisory Committee
---
"It's an exciting development for our students to have somebody assume the chancellor's position at UC Merced whose life experiences parallel so many of their own. I look forward to seeing Chancellor Muñoz's vision in action over the coming months, building on the great work that's already been done to take us to the next level as a leading public research institution."
Valerie Leppert
Professor of Materials Science and Engineering
Member, Search Advisory Committee
---
"Dr. Muñoz's executive leadership experience, his work in undergraduate education, his commitment to student success, and his lived experience as a University of California alumnus and first-generation student make him a great fit for UC Merced. As we aspire to develop the path to Research 1 status, faculty will be looking to Chancellor Muñoz for leadership and strong commitment within his administration toward the attainment of this goal."
Jennifer O. Manilay
Professor of Molecular and Cell Biology
Member, Search Advisory Committee