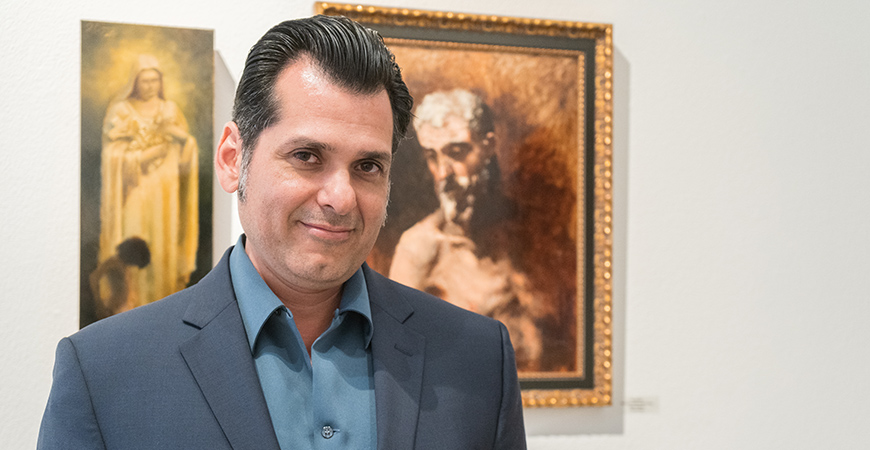 There's a striking image of "San Andres" that was recently on display at the Merced Multicultural Arts Center. The illumination of the saint's torso and visage are iconic.
But this version is different. It's darker – and newer.
On second glance, it's not the famed painting created by Jose de Ribera in 1631 at all.
This version of "San Andres" is only a year old, and it's the handiwork of Richard Gomez, a visual artist in the Global Arts Studies Program.
It's also not a forgery. It's research. Gomez participates in a centuries-old tradition that immerses artists in their craft by copying the works of master painters. Gomez copied "San Andres" during a brief residency at El Museo del Prado in Madrid. Proving the legacy of the copying tradition, the Prado's "San Andres" isn't an original either. It's a copy created by Mariano Fortuny in 1867.
Each version is different while still the same. You still recognize the apostle Andrew and his expression, but each illuminates the saint in a different way.
"At one time, this was common practice for all the great artists of the past," Gomez said. "The purpose of this work is not to simply duplicate a famous painting, but to engage in tradition and learn from the artist directly."
Bernardo Pajares, director of copyists for the Prado, calls it a "face-to-face" study of history's great artists. But for Gomez, time in the Prado was a crash course. His residency lasted less than a week.
"There was no time for distractions, even when surrounded by the great works of my heroes," he said. "I was painting right next to Goya's 'The Third of May 1808.' It was truly inspiring."
Prior to his stint in the Prado, Gomez copied at the Louvre in Paris and locally at the Legion of Honor in San Francisco.
Art as a Tool of Outreach and Transformation
As a faculty member at UC Merced, Gomez is known for his outreach work. He takes students to Yosemite National Park each fall to create sculptures from trash gathered during the annual park cleanup known as Yosemite Facelift. The recycled sculptures are displayed in the park and are a commentary on climate change that aim to trigger conversations on environmental justice. In the past, they've also been installed along Main Street in Merced during Art Hop.
Gomez has also partnered with local organizations to bring art back into elementary schools and rural communities. He's initiated student-involved art makeovers involving large collaborative murals painted on school walls and in parks.
Over spring break, he continued his research on community-engaged public art. He visited Bangladesh and worked with Artolution, an international community-based public art organization, teaching local artists and creating public art projects at the Rohingya Refugee Camp.