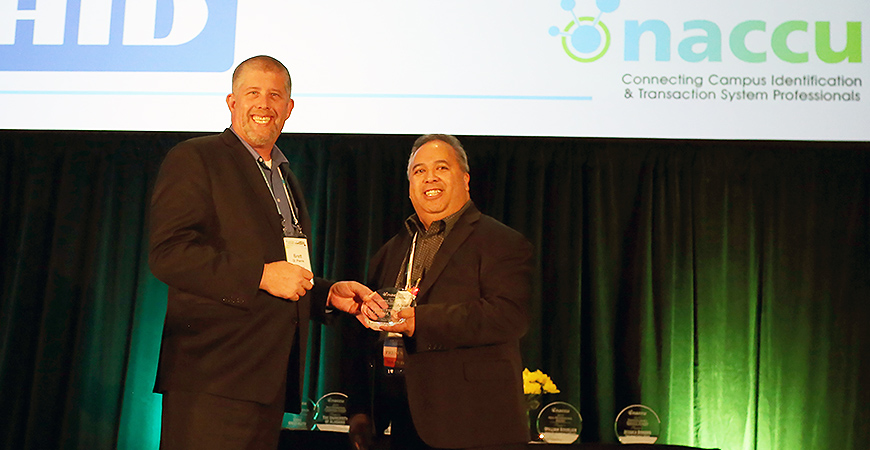 In May 2016, first-year UC Merced student Harrison Tom realized he had more money left on his prepaid meal plan than he could use up before the semester ended.
The balance wouldn't roll over to the next school year. Reluctant to forfeit the remainder, Tom got creative. He used the money to buy 100 meal vouchers and offered them up to hungry students.
"Why let my money go to waste when I could help feed people who need food?" Tom said.
Soon students were redeeming the meal vouchers every hour, which brought its own challenge. Vouchers at the time were printed, and the redemption process was manual, difficult to manage and not entirely secure. People on campus agreed that it made sense to donate meal plan dollars to hungry students, and CatCard and Dining Services staff collaborated to create a better process.
The iCare meal program is the result of that effort. Launched in January 2017, iCare is an app that allows students to donate their excess meal plan dollars to peers in need.
iCare is immediate, private and automated, allowing a full week of meals to be requested from a meal pool using any device, any location and at any time. Integrated with the CatCard campus identification system, iCare provides information on trends and usage.
Donors receive thank you notifications and recipients get notified of available funds and additional food resources available on campus. Over the past two years, iCare has processed 39,560 transferred meals.
This success caught the eye of the National Association of Campus Card Users (NACCU), which honored UC Merced with the Innovative Technology Award. Abraham "Abe" Cereno, associate director of CatCard services, received the crystal award on behalf of UC Merced at the 26th annual NACCU conference, held April 7 through 10 in Hartford, Conn. The NACCU Innovative Technology Award, new in 2012, is awarded annually to an institution that has introduced a unique technology-based solution to a problem or opportunity. Cereno also presented during the conference, sharing how the app has helped the campus to address food insecurity through meal plan donations.
"We have to do everything in our power to help students stay in school and on track to graduate," Cereno said. "If emergency resources aren't in place to provide for students' basic needs, they might leave school for the semester – and they might never come back. Helping people, changing lives, making a difference is what matters most."
Cereno and the CatCard team have been developing innovative tools and services for years, and they continue to passionately provide ID-related, technology-driven solutions to make life easier and more efficient for the campus community and industry.
"This semester we added a meal plan gauge that will show and alert students when they are going to run out of meal plan money according to their average daily spending," Cereno said. "We have also created Bits n' Bites, an app integrated with Twitter, that alerts students to food left over from campus events, so needs can be met and food waste minimized."