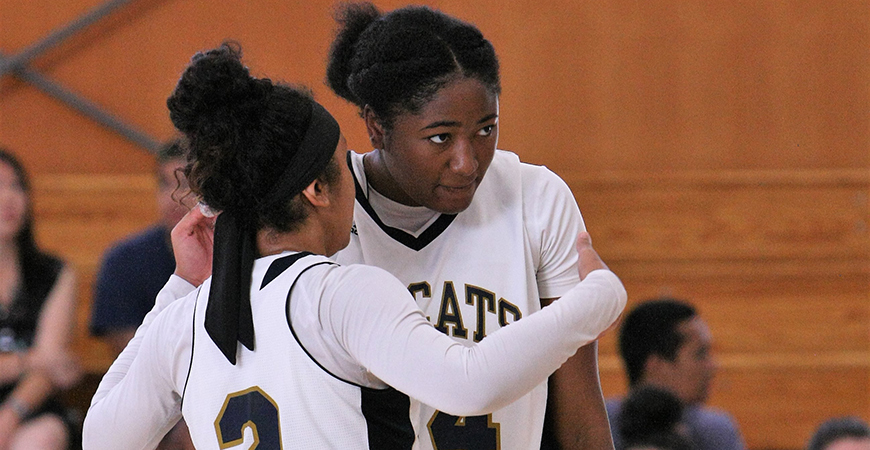 It is often said in sports that you have to struggle and overcome adversity before being able to bask in the glory of success.
UC Merced athletics has faced adversity since first transitioning from a recreation program to a NAIA member eight years ago.
But the wait for success was, well, not long at all.
Most of the university's eight sports teams — men's and women's basketball, cross country, volleyball and soccer — have made at least one postseason appearance, and several have won conference titles. UC Merced also boasts 15 All-Americans, 31 Daktronics-NAIA Scholar-Athletes and three NAIA National Player of the Week recipients.
With success comes traveling to regional and national postseason tournaments, which Athletic Director Dave Dunham — who has been in that position since 2005 when athletics was made up of recreation programs — says poses a hurdle for the athletics department, which doesn't receive state or federal funding as a member of NAIA. The growth of the California Pacific Conference (Cal Pac) has also necessitated more funding, and in turn, more support.
"When we started athletics and we joined this conference eight years ago, it was a Northern California conference. That is why we joined it," Dunham said. "Since then, it has turned into a Southern California and Southern Arizona conference. So, our travel costs have skyrocketed since we joined the conference."
Funding comes from student fees, program revenues and fundraising events such as the Ma Kelley events, which are being held in Merced this week — for the first time in their storied history.
The ninth annual Building Future Champions Dinner and Auction and 22 nd annual Ma Kelley Memorial Golf Tournament serve as the athletic department's biggest fundraiser of the year, raising more than $500,000 since 2005. The money helps pay for travel and support the greatest needs of the department, including athletic scholarships. The dinner will be held at UC Merced's Hostetler Court, enabling attendees to see the banners that signify the Bobcats' success thanks to their support.
Dunham said outside of generous financial assistance from supporters, a major factor in the early success of UC Merced athletics is the program's focus.
"We knew when we started the program that we wanted to be different, which meant we wanted to put the student-athlete experience first," Dunham said. "We intentionally spent a lot of time thinking about what would lead to a positive student-athlete experience."
A student-athlete learning support system, a new and improved athletic training room with three full-time athletic trainers — a rarity in the NAIA system — and a strong group of coaches who identify and develop talent at a high level meet that focus.
"Not a lot of people get to play competitively in college so to be a part of the athletics department at UC Merced has been a blessing and has helped me through my four years here, especially academically," senior Deja Jackson, a member of the women's basketball team, said. "I don't think I would be as successful and graduating on time if not for athletics."
Fellow seniors Artemio Contreras and Nick Sabbatini, both members of the men's soccer team, benefitted from another stepping stone in athletics' growth, the creation of Bobcat Field. The soccer field, part of the Merced 2020 Project, became available a year ahead of schedule, enabling Contreras and Sabbatini to compete on it and see the development of the soccer program come full circle. The two said they went from wearing hand-me-down recreation program jerseys as first-year students to getting new gear every year.
As they get ready to leave the university, they are proud of their success on the field — the team has been ranked in the top 25 in the country the past two years — and the evolution of UC Merced athletics.
"Alumni set the tone and set the legacy of the program and to be the team that we are now, it's a sense of pride because we've been putting in a lot of work and have received a lot of support from the community and boosters," Sabbatini said.
Contreras agreed.
"Now having a beautiful stadium with beautiful grass, to staying at nicer hotels, our coach [Albert Martins] said we've all played a part in building this."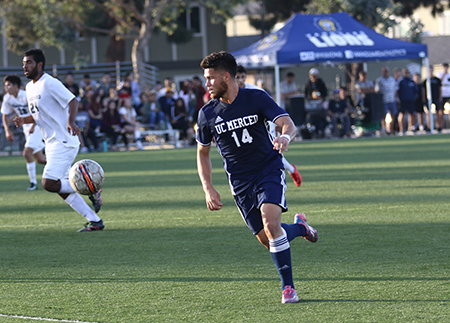 Dunham says the ultimate goal is to get UC Merced into NCAA Division II athletics, but the timeline for a move of that magnitude is unclear because it requires significant financial and staffing investments. New recreation fields and a competitive swimming pool as part of the Merced 2020 Project will help strengthen the case for the university when the time comes.
Dunham credits the coaching staffs at UC Merced for bringing in talent that can compete at the NCAA Division I and II levels, making the Bobcats a contender every year — another criteria that will help when it comes time to make the leap.
For first-year student Rainah Smith, playing at UC Merced fulfills a dream of playing at the college level, but being a part of the program's growth is a bonus.
"I was excited to come here and learn more about the school and the program because I saw where it was going and where it is at this moment and I thought it would be great."
Support UC Merced athletics through the Ma Kelley events and get more information at the Athletics website.