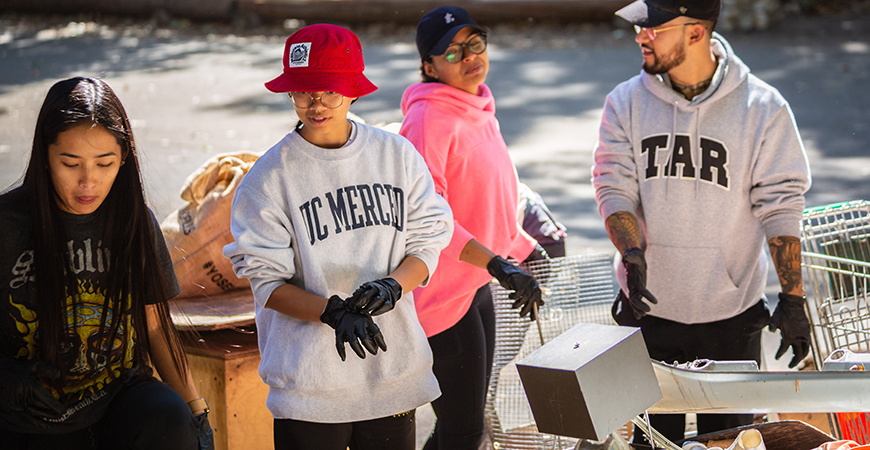 One man's trash is another man's treasure, or in this case art.
Each year Global Arts Studies Program Lecturer Richard Gomez brings students to Yosemite to create an art installation from nothing other than trash found in the park. This project is part of the Yosemite Facelift initiative, an annual effort by the Yosemite Climbing Association to preserve the natural beauty of Yosemite National Park.
Discarded items include everything from potato chip bags and water bottles to bike tires, baby seat, rafts and more. Students are tasked with not only collecting the refuse but using it in a creative way to create an art structure that sends a social message.
"For me as a faculty member, the importance of this experience is giving the students a unique and challenging artistic experience," Gomez said. "They're playing with materials they've never used before. They're creating art with stuff not usually used as art. They're collaborating and problem-solving together. It's intimidating. It's unfamiliar. And they're working together as a team to figure it out."
Students utilized tools Gomez brought — including hammers, saws, nail guns and drills — to construct the sculptures out of wood, metal and plastic among other found objects. Andrea Guerra, a Critical Race and Ethnic Studies major, said it was challenging to work with foreign materials, but a real bonding experience for the class.
"We all artistically like different things. Some of us are sketchers, painters, tattoo artists or work in multimedia," Guerra said. "So, I think something in all of us was sparked when we were looking through the trash and we had this common question in our heads of 'How do we make this beautiful just using our creativity and imagination?'"
This year's installation depicts an anatomical heart with roots leading into the ground, flanked by two butterflies. The nearby town of Mariposa, which means "butterfly" in Spanish, was named after the considerable number of Monarch butterflies seen migrating over the town by early settlers. Butterflies have also become a symbol for immigrants who often follow migration patterns, both literal and metaphorical, toward a better life. The butterflies are still frequently seen in the region and Yosemite National Park has established a restoration project to ensure a safe habitat in the park for the butterflies, among other species.
"The butterfly is a symbol that is really beautiful, but it is also really inclusive in its message," said Jesse Chakrin , co-director of the Yosemite Leadership Program and supervisor of the UC Merced Wilderness Education Center. "The meaning of the butterfly is really layered, but it's also something anyone walking by who is not familiar with the depth of meaning can enjoy."
By positioning the heart between the butterflies, viewers are asked to consider what they love, what grounds them and their sense of place in the world.
"The heart has so much symbolism because it can represent so many different things: the love people have for Yosemite, the human connection to the land and how the indigenous Native American tribes are connected to this land and their love for it," Guerra said.
Chakrin facilitates visits for Merced County School District fourth-grade students to Yosemite to encourage engagement with the art, Chakrin attached sharpies to the sculpture so the students as well as visitors can write on the heart what they love and value.
"This isn't untouchable, sacred art behind glass," Chakrin said. "It's ephemeral, it's built out of found objects. At the end of the day, it will end up in the recycling just like all the other refuse we collected."
What won't be thrown away is the experience of the students in Gomez's class. This project allows students to step out of the classroom and into nature, which teaches them to think outside more daringly and creatively about art.
"This is not just designing an art project and how it will look," Gomez said. "Art is one of many elements at play. The sculpture has to be structurally sound. The students have to build it, make sure it has structural integrity. It's science, it's engineering, it's collaboration. And they bring these tools with them to future creative projects for the rest of the semester."