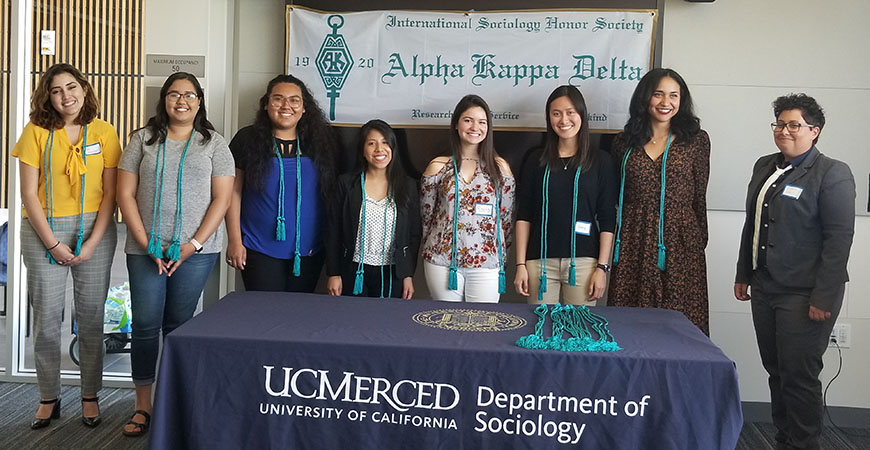 Finals are a busy time for students, but that didn't stop UC Merced's sociology undergraduates from kicking off their first annual Alpha Kappa Delta Research Symposium on April 19.
Alpha Kappa Delta is a nearly 100-year-old honor society for students with a focus in sociology.
Graduating senior Rocio Murillo founded UC Merced's chapter last year. Murillo, who is heading to University of Southern California this fall to earn her Master of Arts in Teaching, said she wanted to facilitate connections between students and sociology faculty, while also exposing students to the varied ways they can use their sociology degrees.
"We have a lot of sociology majors and minors who don't know exactly what they want to do as a career path," Murillo explained. "I wanted to build a bridge between students and faculty members in the department and figured having an actual national honors society would help make that happen."
Murillo serves as the president of the Alpha Kappa Delta Leadership Committee, which is composed of co-vice presidents Lesly Castro and Keila Luna, as well as treasurer Anne Oyales. This team of students applied for an Alpha Kappa Delta grant to make the symposium possible. With the help of their faculty mentor, Professor Sharla Alegria, the students successfully submitted a proposal and secured $500 to host a research symposium, which the university matched.
"They were very enthusiastic about pursuing it and I wanted to support them in that," Alegria said. "It was fantastic."
The symposium included a keynote speech from CSU Fresno Professor Jennifer Randles and a range of presentations from undergraduate students on topics like immigrant rights, the black student experience in a Hispanic-serving institution, the impact of parent engagement on student success and more.
The symposium allowed students to step away from their studies and invest in skill sets that will pay off later down the road in their careers.
"It's an amazing opportunity for students to have this professional experience in a local context, which helps with their resumes and graduate school applications," Alegria said.