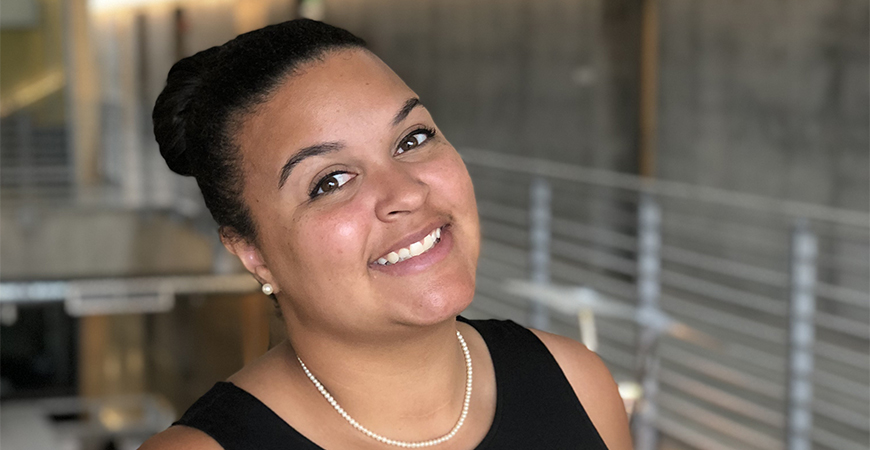 Fourth-year Public Health doctoral student Tashelle Wright won UC Merced's first Tobacco-Related Disease Research Program (TRDRP) Predoctoral Fellowship to examine tobacco use and oral health diseases among Black, Latinx, aging and rural populations in the San Joaquin Valley.
As a TRDRP fellow, Wright has the opportunity to receive advanced training and continued professional development while focusing on her community-based and community-driven research in health equity in Black and Latinx communities.
"Tashelle is the ideal candidate for this award as it acknowledges her commitment to community engaged scholarship and to addressing tobacco and oral health disparities in the region," Wright's dissertation chair Professor Nancy Burke said. "We are very excited about the contribution her research promises to make."
The fellowship, which starts in September, offers two years of research funding to support Wright's dissertation project entitled "Intersecting Inequities: Linking Tobacco Use to Oral Health Disparities Among Blacks and Latinx." She'll work under Burke and professors Mariaelena Gonzalez and Irene Yen, both dissertation committee members. All three are members of the Core Research Team at UC Merced's Nicotine & Cannabis Policy Center (NCPC) launched in 2018 to study public health and policy matters related to tobacco and marijuana.
"I am grateful to have been selected for this TRDRP Predoctoral Fellowship. This opportunity will allow me to continue my research on tobacco and oral health in the San Joaquin Valley,"Wright said.  "I look forward to working with and within Black and Latinx communities to identify community-based and community-driven ways to promote health equity!"
Wright will present her research at the American Public Health Association Conference in Philadelphia in November.