Sixteen Tulare County high school students have completed the inaugural internship program through UC Merced's partnership with the Tulare County Office of Education (TCOE). Late last year, the university partnered with TCOE to establish the UC Merced/SCICON Field Station in the Sierra Nevada foothills, with the goal of exposing students to higher education opportunities while studying the land for research on environmental issues.
The students began the process of mapping Circle J-Norris Ranch, the site of the new field station last week. Led by Circle J lead teacher Nancy Bruce and faculty and staff and faculty from UC Merced — including Professor Jessica Blois, faculty director of UC Merced's nature reserves — students used GPS devices to locate random points throughout the reserve and then set up long-term monitoring plots at the points. The plots will be used by local environmental science students and also serve as a basis for ongoing oak mortality research. The students received a stipend for their work.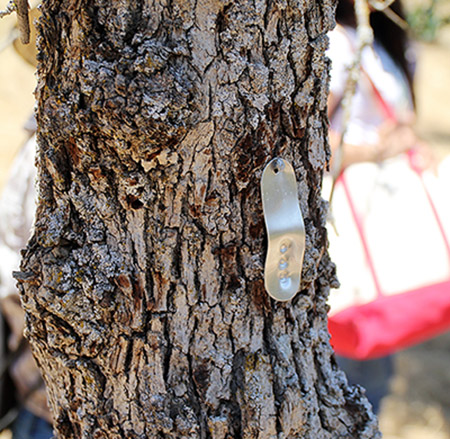 "It was so much fun to be able to spend the day working with student interns from Tulare County as they set up long-term monitoring plots at Circle J Ranch," Blois said. "We hiked through the grassland and oak woodland to one of the plots and worked through the challenges of setting up new research projects. All of the interns have bright futures ahead of them, and it was gratifying to see the partnership between the Tulare County Office of Education and UC Merced come to fruition."
Circle J-Norris Ranch is 630 acres of range land that affords UC Merced researchers the opportunity to study the Sierra Nevada foothills and its environmental systems — providing insight into issues that affect San Joaquin Valley residents. The new field station is on a recently acquired 8-acre property connected to the Circle J-Norris Ranch field study site.
The partnership between the university and Tulare County Office of Education began early in 2018, with the field station long being a vision of former Tulare County Superintendent of School Jim Vidak.
"Circle J Ranch preserves a beautiful mixed grassland and blue oak woodland that has vernal pools on it and is a working cattle ranch," Blois said. "It is also a low-elevation ecosystem in the foothills of the southern Sierra Nevada mountains. There are so many possibilities for new research at this site that complements the UC Merced research already going on at the Merced Vernal Pools and Grassland Reserve and in the southern Sierra Nevada."